PERANCANGAN DAN PENGEMBANGAN APLIKASI HOSPITAL MOBILE BERBASIS ANDROID
Joshua .

Ignatius Barnabas Darongke

Yohanes Denny Agus Salim

Indrajani .

Raymond Bahana

Ida Bagus Kerthyayana Manuaba
Keywords:
hospital, mobile application, android, information system
Abstract
Mobile applications are computer programs that have many benefits, such as making it easier for
users to obtain and disseminate information. The mobile application can also be used to help patients
connect with hospitals. Some of the problems faced by patients are the difficulty of contacting
hospitals to register for treatment or consultation, also the difficulty of patients finding information
about doctor's practice schedules and information about polyclinic and existing facilities so patients
must come to the hospital to find out that information. Based on the analysis of the problem, it is
proposed making a mobile application with some features needed by patients. The design and
manufacture of this application is divided into three parts, namely database using MySQL, web
applications using PHP and mobile applications using Android. Based on respondent data, it can be
concluded that this application has several uses for respondents.
References
[1] Butler, M., 2010. Android:
Changing the mobile landscape.
IEEE Pervasive Computing, 10(1),
4-7.
[2] Developers, A., 2011. What is
android.
[3] Jain, & Nilesh. 2014. Review Of
Different Responsive CSS Front-
End Frameworks. Journal of Global
Research in Computer Science.
5(11).
[4] Lawgali, A. 2016. Traceability of
Unified Modeling Languange
Diagrams From Use Case Maps.
International Journal of Software
Engineering & Applications
(IJSEA), 7(6).
[5] Rhmann, W., & Saxena, V. (2016).
Generation of Test Cases from
UML Sequence Diagram Based on
Extenics Theory. British Journal of
Mathematics & Computer Science.
[6] Shakil, M., Ullah, M. R., & Lutfi,
M. 2013. Process Flow Chart and
Factor Analysis in Production of a
Jute Mills. Journal of Industrial and
Intelligent Information, 1(4).
[7] Kumar, R. 2017. Paradigm Shift:
Role of Social Media and
Information Technology in
Healthcare Advancements. Journal
of Health & Medical Informatics.
[8] Saif, S. M., Kirmani, M. M., &
Wahid, A. 2015. Web Engineering:
An Engineering Approach for
Developing Web Applications.
International Journal of Software
and Web Sciences (IJSWS).
[9] Connolly, R., 2015. Fundamentals
of web development. Pearson
Education.
[10] Berners-Lee, T. and Connolly, D.,
1995. Hypertext markup language-
2.0.
[11] Charland, A. and Leroux, B., 2011.
Mobile application development:
web vs. native. Communications of
the ACM, 54(5), 49-53.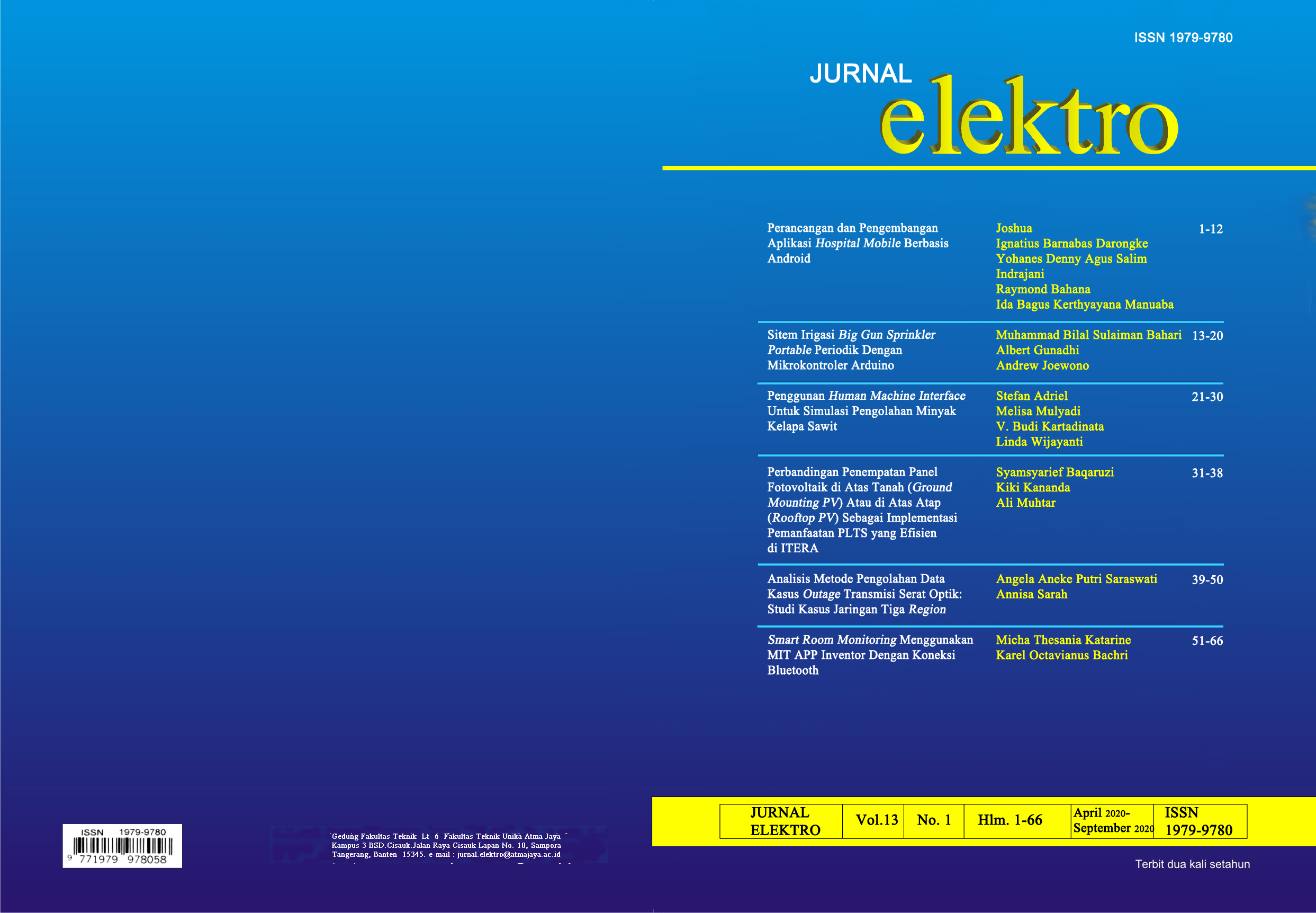 Abstract viewed = 0 times PERANCANGAN DAN PENGEMBANGAN APLIKASI HOSPITAL MOBILE BERBASIS ANDROID downloaded = 0 times