ANALISIS METODE PENGOLAHAN DATA KASUS OUTAGE TRANSMISI SERAT OPTIK: STUDI KASUS JARINGAN TIGA REGION
Angela Aneke Putri Saraswati

Annisa Sarah
Keywords:
outage, fiber optic, performance, Tableau
Abstract
The wide implementation of fibre optic transmission cable supports the increasing demand of data
communication, due to its reliability and its fast connectivity. However, optical fibre communication
might experience an outage condition, which could degrade the overall network performance. This
study analyses an eight months data recording of outage tickets for three region networks by using
Tableau. We study three main parameters: age of nodes, device models and the number of tickets that
affect the number of outages in each region. Based on these parameters, we identify the top priority
maintenance nodes in each region that affect the performance the most. We classified the outage
condition based on internal (e.g. breaker down, maintenance), and external (e.g. electricity blackout,
cable bitten by animals). Study shows that most outage causes are the "Electricity blackout" which
account of 33.33% of total cases. Meanwhile, the region that suffered by outage the most is Jakarta-
Central, with only 99,74% Network Availability (NA), compared to Jakarta-Bekasi-Karawang with
NA 99,85% and Jakarta-NorthEast with NA 99,86%.
References
[1] Sukhendro. Ir. 2018. Dasar Teknik Sistem Komunikasi Serat Optik.
[2] I. Mulyana, 2016 Pengembangan Sensor Ketinggian Fluida Berbasis Polymer Optical Fiber (Pof) Berbentuk Non-Bended. J. Fis. 5(2), 8–10.
[3] Z. Akbar, dkk. Implementasi Bussinesee Intelligence Pada Analisis Peningkatan Sarana Perairan Kota Padang Tahun 2013 – 2015 Menggunakan Aplikasi Tableau. J. Ilm. Manaj. Inform. dan Komput. 01, 60.
[4] S. Harahap Aprilia, 2016 Analisis Pengendalian Kualitas Produk Keripik Pisang Puri Jaya Pada Pd. Puri Jaya Di Bandar Lampung. Skripsi Fak. Ekon. dan Bisnis Univ. Lampung Bandar Lampung, 14–15.
[5] C. V. Gunawan and H. Tannady. 2016. Pada Pembuatan Bag Dengan Metode ( Studi Kasus : Pabrik Alat Kesehatan PT . XYZ , Serang , Banten ). J. Tek. Ind. XI(1), 9–14.
[6] H. Pujotomo, Darmianto & Septiawan. 2012. Analisis Total Productive Maintenance Pada Line 8/Carbonated Soft Drink Pt Coca-Cola Bottling Indonesia Central Java. J@ti Undip J. Tek. Ind. 2(1), 23-36.
[7] J. Rak. 2015. Resilient Routing in Communication Networks. Springer International Publishing AG Switzerland.
[8] D. A. Pujangga. 2013. Perancangan Teknologi Hybrid Fiber Coaxial (Hfc) Untuk Apartemen. Laporan Kerja Lapangan Sekolah Tinggi Teknik Atlas Nusantara Malang, Program Studi Teknik Informatika.
[9] D. Mubarok, Fadillah Fiqri & Damayanti, Nopiani Tri & Ruhimat. Integrasi Sistem Headend Hfc Pada Jaringan Fiber To The Home Untuk Layanan Tv Broadcast Analog. Elektro Telekomun. Terap. 671–672.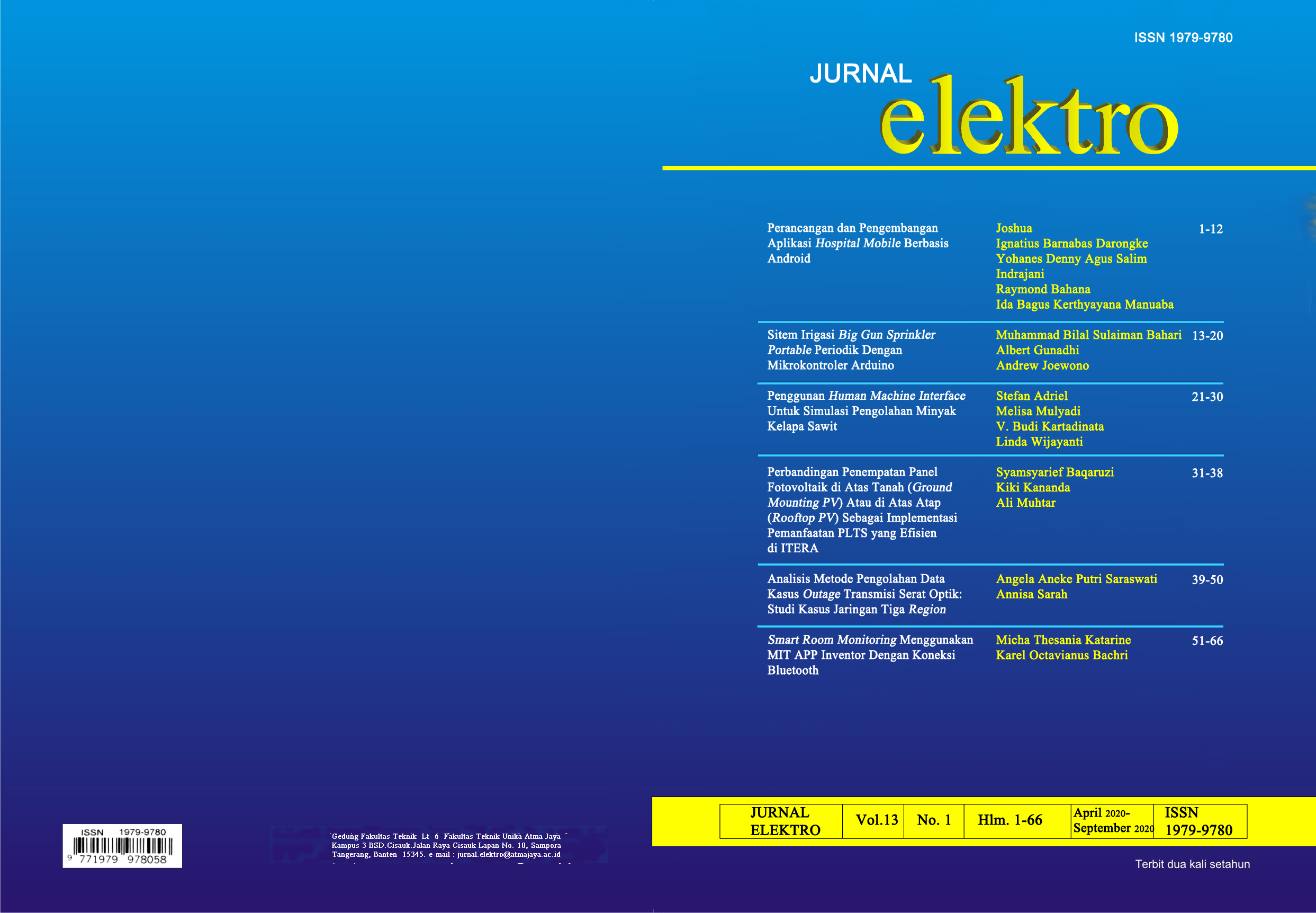 Abstract viewed = 0 times ANALISIS METODE PENGOLAHAN DATA KASUS OUTAGE TRANSMISI SERAT OPTIK: STUDI KASUS JARINGAN TIGA REGION downloaded = 0 times