ETHANOL EXTRACT OF AVOCADO SEEDS (Persea americana Mill.) AND ACETONE EXTRACT OF YACON LEAVES (Smallanthus sonchifolius) ARE EQUALLY EFFECTIVE IN DECREASING BLOOD SUGAR LEVEL IN ALLOXAN-INDUCED RATS
Dylan Putra

Fakultas Kedokteran dan Ilmu Kesehatan Unika Atma Jaya

Jojor Lamsihar Manalu

Departemen Fisiologi dan Fisika, Fakultas Kedokteran dan Ilmu Kesehatan Unika Atma Jaya
Keywords:
avocado seed, yacon leaf, extract, blood sugar levels
Abstract
Introduction: Diabetes mellitus is a disease that affects many people globally, including Indonesia. The prevalence of diabetics in Indonesia increased from 6.9% (2013) to 8.5% (2018). Herbs can be used to lower the glucose concentration, including avocado seeds and yacon leaves that contain flavonoids and astringent compounds.The aim of the study to see the comparison of the effectiveness of avocado seeds extract and yacon leaves extract in reducing blood sugar levels in rats.
Methods: This research was an experimental study using rat as animal model. Rats were divided into groups which were given ethanol extract of avocado seed (Persea americana Mill.) and acetone yacon leaf extract (Smallanthus sonchifolius) with various doses i.e. 150mg/kg, 300mg/kg, and 450mg/kg. The rat was given alloxan to induce blood sugar levels increase and the results were observed 2 days before administration of the extract for 5 days. The extraction process was done by maceration method. Data was analysed using One Way Anova.
Results: There was a decline in blood sugar levels in each group given the avocado seed extract and yacon leaf extract . However, there was no statistical difference in effectiveness between the extracts.
Conclusion: Both avocado seed extract and yakon leaf extract are equally effective in decreasing blood sugar levels in alloxan-induced rats.
Downloads
Download data is not yet available.
References
Direktorat P2PTM. Fakta dan angka diabetes [Internet]. 2017 [cited 2020 Jul 6]. Available from: http://www.p2ptm.kemkes.go.id/dokumen-ptm/fak-ta-dan-angka-diabetes.

Kementrian Kesehatan RI. Hasil utama RISKESDAS 2018 [Internet]. 2018. Available from: https://kesmas.kemkes.go.id/assets/upload/dir_519d41d8cd98f00/files/Hasil-riskesdas-2018_1274.pdf

Putri LW, Yuniarni U, Hazar S. Uji efek antihiperglikemia kombinasi ekstrak etanol daun alpukat dan biji alpukat (Persea americana Mill.) terhadap mencit jantan (Mus musculus) Swiss Webster yang diinduksi aloksan. Prosiding Penelitian SPeSIA Unisba. 2015 Aug;1(2):210–6.

Putri DDN, Suriadi, Fauzan S. Pengaruh rebusan daun insulin (Smallanthus sonchifolius) terhadap penurunan kadar glukosa darah pada tikus diabetes melitus. Jurnal Proners [Internet]. 2015;3(1).

Puspati NKS, Anthara MS, Dharmayuda AAGO. Pertambahan bobot badan tikus diabetes mellitus dengan pemberian ekstrak etanol buah naga daging putih. Indonesia Medicus Veterinus. 2013 Jan;2(2):225–34.

Rosyidi CAH. Efek ekstrak daun insulin (Smallanthus sonchifolia) terhadap kadar glukosa darah, berat badan, dan kadar triglserida pada tikus diabetes strain Sprague Dawley yang diinduksi aloksan (Skripsi). 2014. Universitas Islam Negeri Syarif Hidayatullah.

Irdalisa, Safrida, Khairil, Abdullah, Sabri M. Profil kadar glukosa darah pada tikus setelah penyuntikan aloksan sebagai hewan model hiperglikemik. Jurnal EduBio Tropika. 2015; 3:25–8

Patala R, Dewi NP, Pasaribu MH. Efektivitas ekstrak etanol biji alpukat (Persea americana Mill.) terhadap kadar glukosa darah tikus putih jantan (Rattus novergicus) model hiperkolesterolemia-diabetes. Jurnal Farmasi Galenika [Internet]. 2020 Mar;6(1):7–13.

Padilla-Camberos E, Martínez-Velázquez M, Flores-Fernández JM, Villanueva-Rodríguez S. Acute toxicity and genotoxic activity of avocado seed extract (Persea americana Mill., c.v. Hass). The Scientific World Journal . 2013; 2013:1–4.

Oktaria YE. Uji aktivitas antidiabetes ekstrak etanol biji alpukat (Persea americana Mill.) terhadap tikus galur Wistar yang diinduksi aloksan. 2013. Universitas Muhammadiyah Surakarta

Pahlawan PP, Oktaria D. Manfaat daun insulin (Smallanthus sonchifolius) sebagai antidiabetes. MAJORITY. 2016; 5:133–7.

Anggraeni AD. Pengaruh pemberian infusa biji al-pukat (Persea americana Mill.) terhadap kadar glu-kosa darah tikus Wistar yang diberi beban glukosa. 2006. Fakultas Kedokteran Universitas Diponegoro.

Sholhah AF, Tjandrakirana, Qomariyah N. Penga-ruh pemberian kombinasi rebusan biji alpukat (Per-sea americana) dan biji pepaya (Carica papaya) terhadap kadar glukosa darah mencit. Lentera Bio. 2013; 2:191–5.

Acetone | CH3COCH3 - PubChem [Internet]. [cited 2020 Jan 1]. Available from: https://pubchem. ncbi.nlm.nih.gov/compound/Acetone

Sujono JC, Anshory H, Hayati F, Himawan NSS. Efek antidiabetik ekstrak etanol daun yakon (Smallanthus sonchifolius) pada tikus jantan galur Wistar yang diinduksi streptozotocin. Prosiding. Bagian Farmakologi dan Terapi Fakultas Kedok-teran Universitas Gajah Mada. Yogyakarta. 2014.

Suryani NC, Permana DGM, Jambe AA GN. Pengaruh jenis pelarut terhadap kandungan total flavonoid dan antioksidan ekstrak daun matoa (Pometia pinnata). Jurnal Ilmu dan Teknologi Pangan (ITEPA) [Internet]. 2016 Jun;10.

Rifai G, Rai Widarta IW, Ayu Nocianitri K. Pengaruh jenis pelarut dan rasio bahan dengan pelarut terhadap kandungan senyawa fenolik dan aktivitas antioksidan ekstrak biji alpukat (Persea Americana Mill). Jurnal ITEPA [Internet]. 2018 Jul 29 [cited 2020 Jun 17];7(2):22–32.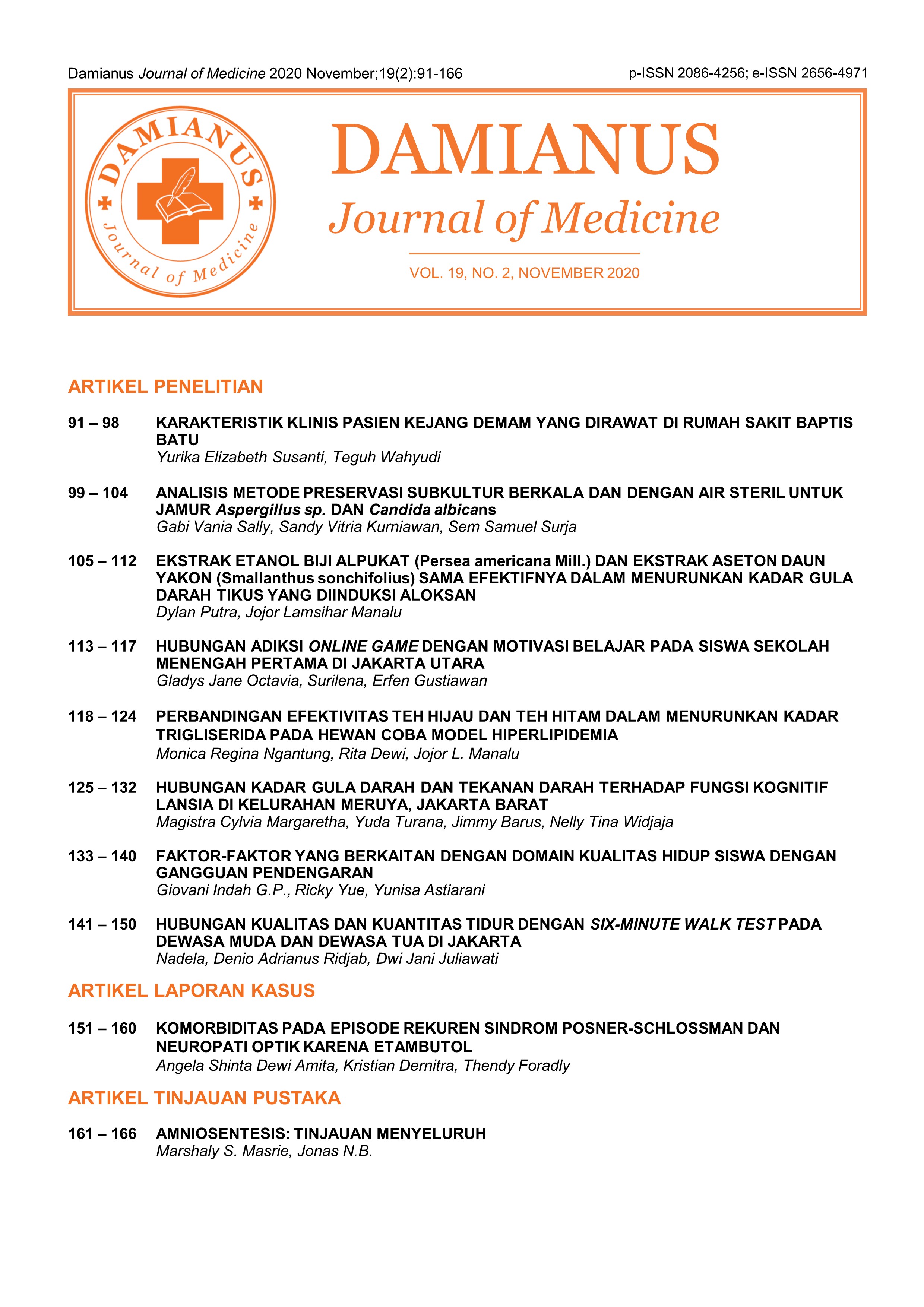 How to Cite
1.
Putra D, Manalu J. ETHANOL EXTRACT OF AVOCADO SEEDS (Persea americana Mill.) AND ACETONE EXTRACT OF YACON LEAVES (Smallanthus sonchifolius) ARE EQUALLY EFFECTIVE IN DECREASING BLOOD SUGAR LEVEL IN ALLOXAN-INDUCED RATS [Internet]. Damianus: Journal of Medicine [Internet]. 25Nov.2020 [cited 24Jan.2021];19(2):105 -112. Available from: http://ejournal.atmajaya.ac.id/index.php/damianus/article/view/1141
This work is licensed under a Creative Commons Attribution-ShareAlike 4.0 International License.

Abstract viewed = 0 times PDF (Bahasa Indonesia) downloaded = 0 times