GREEN TEA AND BLACK TEA CAN LOWER THE LEVELS OF LDL CHOLESTEROL IN HYPERLIPIDEMIC ANIMAL MODEL
Dhany Pratama Tindage

Fakultas Kedokteran dan Ilmu Kesehatan Universitas Katolik Indonesia Atma Jaya

Rita Dewi

Departemen Biokimia-Kimia, Fakultas Kedokteran dan Ilmu Kesehatan Unika Atma Jaya

Jojor L. Manalu

Departemen Fisiologi-Fisika, Fakultas Kedokteran dan Ilmu Kesehatan Unika Atma Jaya
Keywords:
green tea, black tea, LDL cholesterol, animal model, hyperlipidemia
Abstract
Introduction: Hyperlipidemia is a global health problem with the number of sufferers increasing every year. Globally, one-third of heart disease is caused by high cholesterol levels including LDL cholesterol. Overall, hypercholesterolemia is estimated to cause 2.6 million deaths. Green tea and black tea can be alternatives to traditional medicine. Some researches state that tea consumption is good for health. Green tea and black tea can be used as an alternative treatment in reducing LDL cholesterol levels in patients with hyperlipidemia.
Method: This study is an in vivo experimental research. This experiment using 16 Rattus norvegicus rats Sprague Dawley strain induced into hyperlipidemia with lard and quail egg yolks before and divided into 2 groups; the green tea group and the black tea group. Interventions carried out for 17 days and checking the blood LDL cholesterol at the beginning and at the end of the intervention using Friedewald's formula with HDL, total cholesterol and triglycerides numbers from cholesterol test strip and tools from Lipid Pro. Data were collected and analyzed using the Shapiro-Wilk test, Wilcoxon Matched-Pair Signed-Ranks Test, Mann-Whitney U Test.
Result: The results showed that the data were normally distributed (Shapiro-Wilk test p>0.05). Intervention with green tea and black tea for 17 days led to a significant drop in LDL cholesterol levels (Wilcoxon Matched-Pair Signed-Ranks Test p<0.05), but there is no significant difference between the effectiveness of the treatment group (Mann-Whitney U Test p>0.05).
Conclusion: There were no differences in effectiveness of green tea compared with black tea in lowering LDL cholesterol levels on hyperlipidemic Rattus norvegicus, but both green tea and black tea can lower rats' total cholesterol levels significantly.
Downloads
Download data is not yet available.
References
Hao W, Friedman A. The LDL-HDL profile determines the risk of atherosclerosis: A mathe-matical model. PLoS ONE. 2014;9(3):e90497.

Arsana P. Penanganan dislipidemia di Indonesia [Internet]. Pbperkeni.or.id. 2015 [cited 4 December 2019]. Available from: https://pbperkeni.or.id/wp-content/uploads/2019/01/3.-Panduan-Pengelolaan-Dislipidemia-PERKENI-2015.pdf

Mboi, N., Murty Surbakti, I., Trihandini, I., Elyazar, I., Houston Smith, K., Bahjuri Ali, P., Kosen, S., Flemons, K., Ray, S., Cao, J., Glenn, S., Miller-Petrie, M., Mooney, M., Ried, J., Nur Anggraini Ningrum, D., Idris, F., Siregar, K., Harimurti, P., Bernstein, R., Pangestu, T., Sidharta, Y., Naghavi, M., Murray, C. and Hay, S. (2018). On the road to universal health care in Indonesia, 1990–2016: a systematic analysis for the Global Burden of Disease Study 2016. The Lancet, 392(10147), pp.581-591.

Prevalensi teh hijau di Indonesia [Internet]. 2014 [cited 11 January 2018]. Available from: http://repository.usu.ac.id/bitstream/handle/123456789/60884/Chapter%20I.
pdf;jsessionid=99E1C1F3DB11AB6792A945BED609B28?sequence=5

RISKESDAS 2013 [Internet]. Depkes.go.id. 2013 [cited 2 April 2018]. Available from: http://www.depkes.go.id/resources/download/general/Hasil%20
Riskesdas%202013.pdf

Huang LH, Liu CY, Wang LY, Huang CJ, Hsu CH. Effects of green tea extract on overweight and obese women with high levels of low density-lipoprotein-cholesterol (LDL-C): A randomised, double-blind, and cross-over placebo-controlled clinical trial. BMC complementary and alternative medicine. 2018 Dec;18(1):1-1.

WHO | Raised cholesterol [Internet]. Who.int. 2015 [cited 15 October 2018]. Available from: http://www.who.int/gho/ncd/risk_factors/cholesterol_text/en/

Hardani, E. and Lestariana, W. (2014). Efek pemberian ekstrak teh hijau (Camellia sinesis (L) O. Kuntze) var. Assamica terhadap total lemak tubuh dan profil lipid wanita dewasa overweight dan obesitas. Jurnal gizi klinik indonesia, 10.

Bahorun T, Luximon-Ramma A, Neergheen-Bhujun V, Gunness T, Googoolye K, Auger C et al. The effect of black tea on risk factors of cardiovascular disease in a normal population. Preventive Medicine. 2012;54:S98-S102.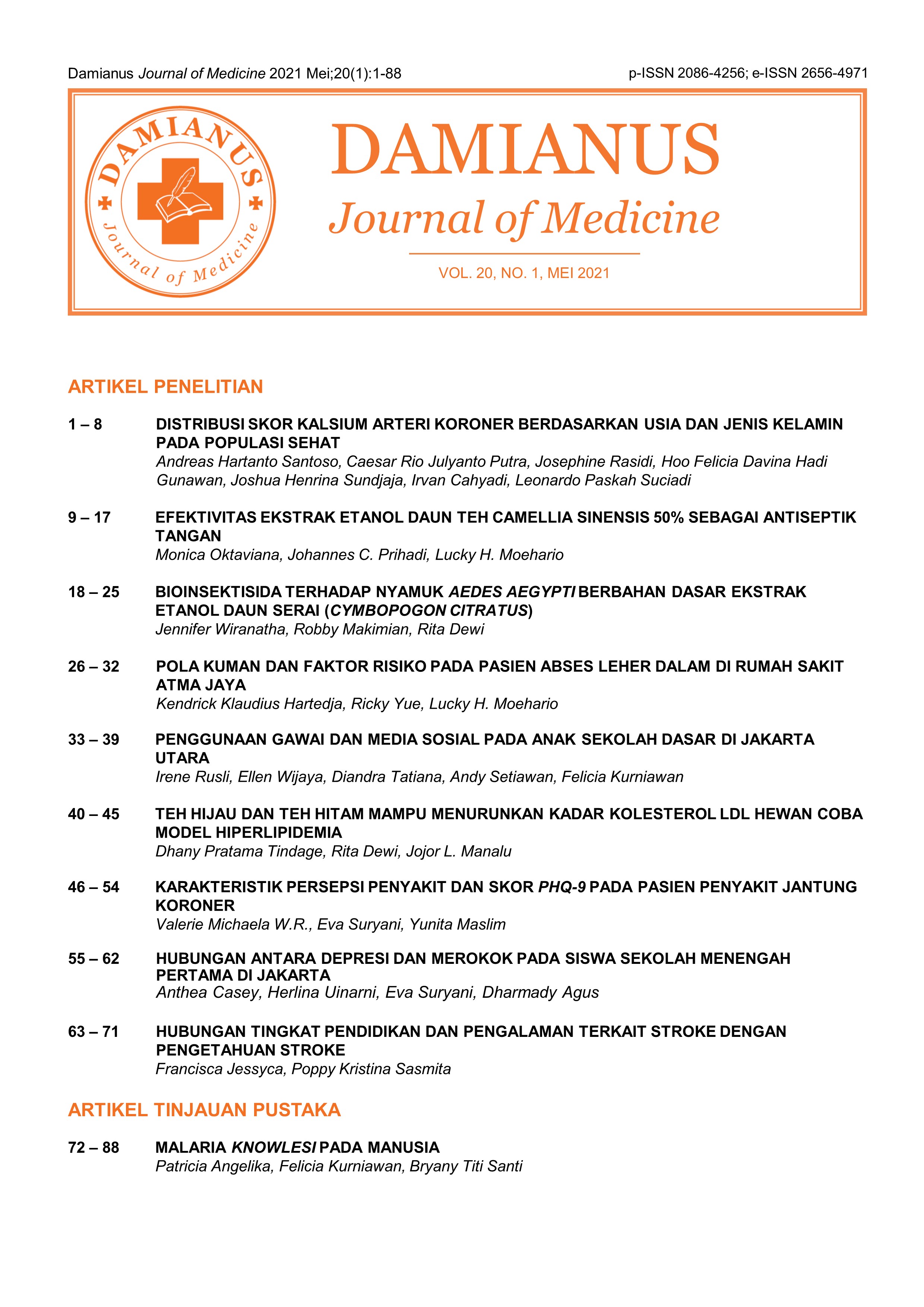 How to Cite
1.
Tindage D, Dewi R, Manalu JL. GREEN TEA AND BLACK TEA CAN LOWER THE LEVELS OF LDL CHOLESTEROL IN HYPERLIPIDEMIC ANIMAL MODEL [Internet]. Damianus Journal of Medicine [Internet]. 31May2021 [cited 24Oct.2021];20(1):40 -45. Available from: http://ejournal.atmajaya.ac.id/index.php/damianus/article/view/1224
This work is licensed under a Creative Commons Attribution-ShareAlike 4.0 International License.

Abstract viewed = 0 times PDF (Bahasa Indonesia) downloaded = 0 times