CLINICAL CHARACTERISTICS OF CHILDREN WITH FEBRILE SEIZURE IN THE BAPTIST HOSPITAL BATU
Yurika Elizabeth Susanti

Rumah Sakit Baptis Batu

Teguh Wahyudi

Bagian Ilmu Kesehatan Anak, Rumah Sakit Baptis Batu
Keywords:
clinical characteristics, demography characteristics, febrile seizure
Abstract
Introduction: Febrile seizure is the most common type of seizure in children, mostly occurred in children aged 6 months to 5 years. The aim of the study was to describe the demographic and clinical characteristics of febrile seizures in children in the Baptist Hospital Batu.
Methods: This was a cross-sectional research, including febrile seizure children (n=41) who were admitted into the Baptist Hospital Batu on January 2017 to October 2018. The data was collected from the medical records and described and presented in frequency tables.
Results: Febrile seizure was common in boys (61%), aged 1 to 2 years old (46.3%). Generalized seizure (97.6%) was the most febrile seizures. The duration of seizure was <15 minutes (95.1%) with the majority patients with febrile seizure experience one seizure episode (73.2%). Simple febrile seizure (70.7%) was more common than complex febrile seizures. The body temperature was ≥38⁰ C (68.3%), however, the leukocyte counts was normal (63.4%).
Conclusion: Febrile children younger than 2 years old, especially boys need to be well monitored as these children may develop into febrile seizure.
Downloads
Download data is not yet available.
References
Sofyan I, Pusponegoro HD, Widodo DP, Mangunatmadja I, Handryastuti S. Rekomendasi Penatalaksanaan Kejang Demam. Badan Penerbit Ikatan Dokter Anak Indonesia; 2016.

Arief R. Penatalaksanaan kejang demam. Cermin Dunia Kedokteran. 2015;42(9):658-661.

Nindela R, Dewi M, Anson I. Karakteristik penderita kejang demam di Instalasi Rawat Inap Bagian Anak Rumah Sakit Muhammad Hoesin Palembang. Jurnal Kedokteran dan Kesehatan. 2014;1(1):41-45.

Kakalang J, Masloman N, Manoppo J. Profil kejang demam di Bagian Ilmu Kesehatan Anak RSUP Prof. Dr. R. D. Kandou Manado Periode Januari 2014 – Juni 2016. Jurnal e-Clinic (eCl). 2018;4(2).

Mwipopo E, Akhatar S, Fan P, Zhao D. Profile and clinical characterization of seizures in hospitalized children. Pan African Medical Journal. 2016;24.

Mahyar A, Ayazi P, Fallahi M, Javadi A. Risk factors of the first febrile seizures in Iranian children. Int J Pediatr. 2010:1-3.

Delpisheh A, Veisani Y, Sayehmiri K, Fayyazi A. 10. Febrile seizures: Etiology, prevalence, and geographical variation. Iran J Child Neurol. 2014;8(3):30-37.

Fuadi F, Bahtera T, Wijayahadi N. Faktor risiko bangkitan kejang demam pada anak. Sari Pediatri. 2016;12(3):142.

Kimia A, Bachur R, Torres A, Harper M. Febrile seizures: Emergency medicine perspective. Co-Pediatrics. 2015;27(3):292-297.

Adhar A. Analisis faktor risiko kejadian kejang demam di Ruang Perawatan Anak RSU Anutapura Palu. Jurnal Kesehatan Tadulako. 2016;2(2):60-72.

Biswas R, Munsi A, Rahman M, Begum N, Das R. Clinical profile of febrile convulsion among admitted children in a tertiary care hospital at Dhaka City. Northern International Medical College Journal. 2015;7(1):101.

Aliabad MG, Khajeh A, Fayyazi A, Safdari L. Clinical, epidemiological and laboratory charac-teristics of patients with febrile convulsion. Journal of Comprehensive Pediatrics. 2013;4(3):134-7.

Shresta D, Dhakal A, Shakya A, Mehata S. Clinical characteristics of children with febrile seizure. J Nepal Health Res Counc. 2014;12(28):162-166.

Hussain S, Tarar S, Sabir M. Febrile seizures: demographic, clinical and etiological profile of children admitted with febrile seizures in a tertiary care hospital. Journal of the Pakistan Medical Association. 2015;65(9):1008-1010.

Khair A, Elmagrabi D. Febrile seizures and febrile seizure syndromes: An updated overview of old and current knowledge. Neurology Research International. 2015;2015:1-7.

Sharawat I. Evaluation of risk factors associated with first episode febrile seizure. Journal of Clinical and Diagnostic Research. 2016;10(5):10-13.

Kliegman RM, Behrman RE, Stanton BF, Schor NF, Geme III JWS. Nelson Textbook of Pediatrics. 20th ed. Philadelphia: Elsevier; 2016.

Vebriasa A, Herini E, Triasih R. Hubungan antara riwayat kejang pada keluarga dengan tipe kejang demam dan usia saat kejang demam pertama. Sari Pediatri. 2016;15(3):137.

Pakniyat A, Yousefichaijan P, Dorreh F, Abbasian L. Assessing the prevalence distribution of abnormal laboratory tests in patients with simple febrile seizure. Journal of Pediatric Neurosciences. 2015;10(2):93.

Nugroho W. Penyakit-penyakit yang menyertai kejadian kejang demam anak di RSUP Dr. Kariadi Semarang. Jurnal Media Medika Muda. 2014: 5-10.

Moghaddam KB, Bidabadi E, Rad AH, Dalili S. Causes of infectious diseases which tend to get into febrile convulsion. International Journal of Infection. 2015;3(1).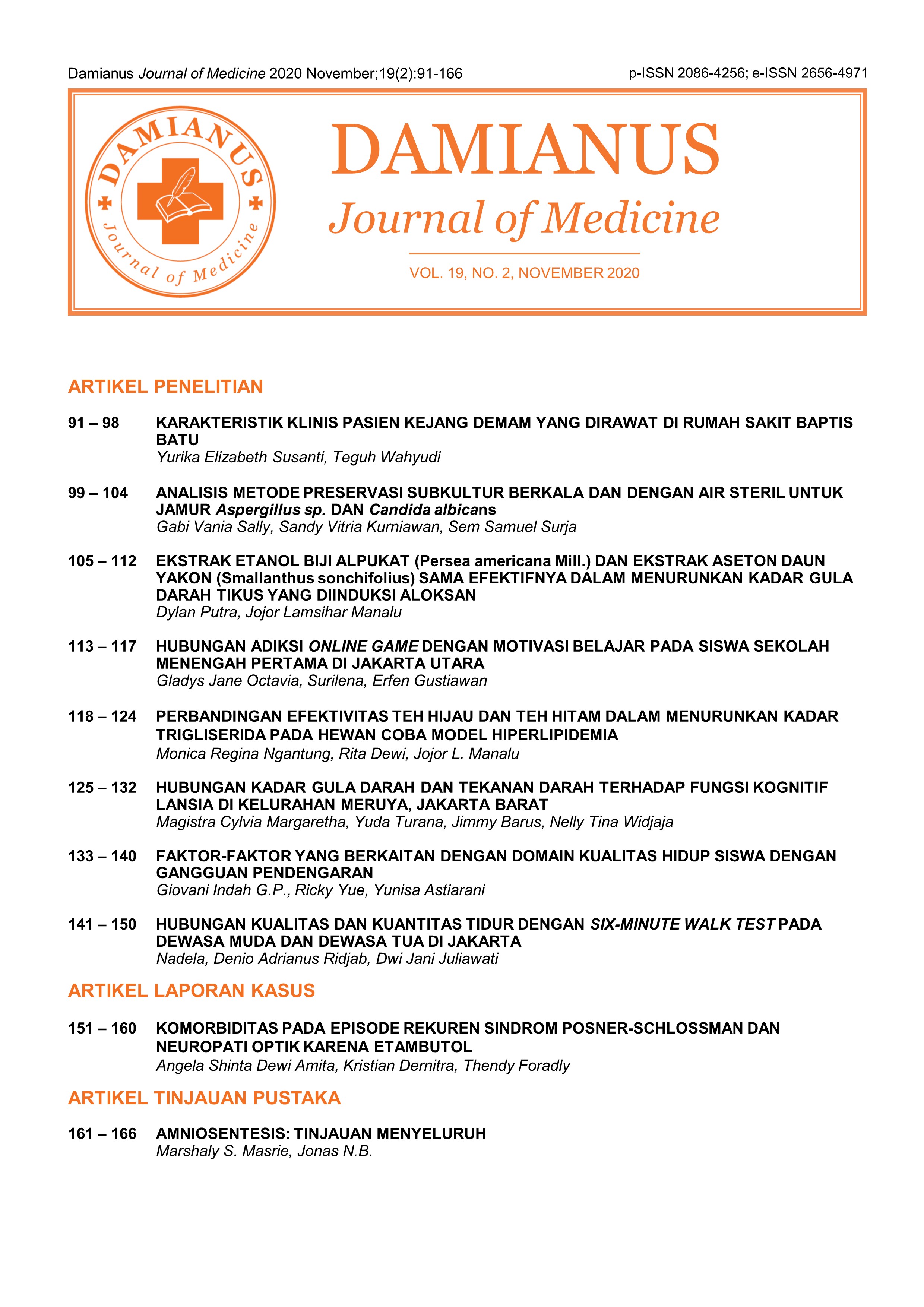 How to Cite
1.
Susanti Y, Wahyudi T. CLINICAL CHARACTERISTICS OF CHILDREN WITH FEBRILE SEIZURE IN THE BAPTIST HOSPITAL BATU [Internet]. Damianus: Journal of Medicine [Internet]. 24Nov.2020 [cited 24Jan.2021];19(2):91-8. Available from: http://ejournal.atmajaya.ac.id/index.php/damianus/article/view/1265
This work is licensed under a Creative Commons Attribution-ShareAlike 4.0 International License.

Abstract viewed = 0 times PDF (Bahasa Indonesia) downloaded = 0 times