COMORBIDITY OF THE RECURRENT EPISODE OF POSNER-SCHLOSSMAN SYNDROME AND ETHAMBUTOL OPTIC NEUROPATHY
Angela Shinta Dewi Amita

Departemen Ilmu Penyakit Mata, Fakultas Kedokteran dan Ilmu Kesehatan Unika Atma Jaya

Kristian Dernitra

Royal Eye Clinic, Rumah Sakit Royal Taruma

Thendy Foraldy

Royal Eye Clinic, Rumah Sakit Royal Taruma
Keywords:
Comorbidity, Ethambutol Optic Neuropathy, Glaucomatocyclitic crisis, Posner Schlossman Syndrome, Toxic Optic Neuropathy
Abstract
Introduction: Posner-Schlossman Syndrome (PSS) or glaucomatocyclitic crisis is a rare ophthalmic disease characterized by unilateral, acute, and recurrent attacks of elevated intraocular pressure (IOP) accompanied by mild anterior chamber inflammation without any conclusive causative factor. This case report represents a concurrence of Ethambutol-induced Optic Neuropathy (EON) and recurrent episode of PSS. Although this combination rarely occurs, but it can significantly affect the prognosis of both conditions.
Case: A 41-year-old woman with unilateral ocular pain and blurred vision for the last 24 hours presented with left anterior uveitis, elevated intraocular pressure 56.7 mmHg and was diagnosed with left eye PSS. Five years later she showed signs of bilateral EON after 5 months of ethambutol administration as tuberculosis treatment. Best Corrected Visual Acuity (BCVA) was (20/80 OD, 20/70 OS), with an unspecified bilateral cecocentral scotomas. After 1 month of ethambutol cessation, the patient had a recurrent episode of PSS on the left eye and worsening the visual acuity more on both eyes (20/400 OD, 20/200 OS). The patient was then treated with methylprednisolone injection, and the visual acuity starts to improve (20/100 ODS).
Conclusion: Comprehensive examination to detect probable etiologies of PSS is important to prevent recurrences and possible comorbidities with other eye disease, such as EON in this case. Patients undergoing ethambutol medication should be assessed by an ophthalmologist before, during and after finished treatment to evaluate the patient's risk factors, past medical history and progression of visual acuity during treatment.
Downloads
Download data is not yet available.
References
AAO. 2019-2020 Basic and Clinical Science Cour-se, Section 09: Uveitis and Ocular Inflammation. American Academy of Ophthalmology; 2019.

Megaw R, Agarwal PK. Posner-Schlossman syndrome. Surv Ophthalmol. 2017 May 1;62(3): 277–85.

Jiang JH, Zhang SD, Dai ML, Yang JY, Xie YQ, Hu C, et al. Posner-Schlossman syndrome in Wen-zhou, China: a retrospective review study. Br J Ophthalmol. 2017;101(12):1638–42.

World Health Organization. Global tuberculosis report 2018. Geneva: World Health Organization; 2018.

Kementerian Kesehatan Republik Indonesia. Data dan Informasi Profil Kesehatan Indonesia 2017.

Jameson JL, Fauci AS, Kasper DL, Hauser SL, Longo DL, Loscalzo J. Harrison's Principles of Internal Medicine, Twentieth Edition. 20 edition. New York: McGraw-Hill Education / Medical; 2018.

Bowling B. Kanski's Clinical Ophthalmology: A sys-tematic approach. 8th ed. London: Elsevier; 2016.

Kim TH, Kim JL, Kee C. Optic disc atrophy in patient with Posner-Schlossman syndrome. Korean J Ophthalmol. 2012 Nov 12;26(6):473–7.

Shazly TA, Aljajeh M, Latina MA. Posner-Schlossman glaucomatocyclitic crisis. Semin Ophthalmol. 2011 Sep;26(4–5):282–4.

Jap A, Sivakumar M, Chee SP. Is Posner Schlossman syndrome benign? Ophthalmology. 2001 May;108(5):913–8.

Pohlmann D, Schlickeiser S, Metzner S, Lenglinger M, Winterhalter S, Pleyer U. Different composition of intraocular immune mediators in Posner-Schlossman-Syndrome and Fuchs' Uveitis. PLOS ONE. 2018 Jun 26;13(6):e0199301.

Sharma P, Sharma R. Toxic optic neuropathy. Indi-an J Ophthalmol. 2011 Apr;59(2):137–41.

Ezer N, Benedetti A, Darvish-Zargar M, Menzies D. Incidence of ethambutol-related visual impairment during treatment of active tuberculosis. Int J Tuberc Lung Dis. 2013 Apr 1;17(4):447–55.

Chen S-C, Lin M-C, Sheu S-J. Incidence and prog-nostic factor of ethambutol-related optic neuro-pathy: 10-year experience in southern Taiwan. Kaohsiung J Med Sci. 2015 Jul 1;31(7):358–62.

Song W, Si S. The rare ethambutol-induced optic neuropathy. Medicine (Baltimore). 2017 Jan 13;96(2).

Chamberlain PD, Sadaka A, Berry S, Lee AG. Ethambutol optic neuropathy. Curr Opin Ophthalmol. 2017 Nov;28(6):545–51.

Lee EJ, Kim S-J, Choung HK, Kim JH, Yu YS. Incidence and clinical features of ethambutol-induced optic neuropathy in Korea. J Neuro-Ophthalmol Off J North Am Neuro-Ophthalmol Soc. 2008 Dec;28(4):269–77.

Chan RYC, Kwok AKH. Ocular toxicity of ethambutol. Hong Kong Med J Xianggang Yi Xue Za Zhi. 2006 Feb;12(1):56–60.

Sadun AA, Wang MY. Ethambutol optic neuropathy: How we can prevent 100,000 new cases of blindness each year: J Neuroophthalmol. 2008 Dec;28(4):265–8.

Tsai RK, Lee YH. Reversibility of ethambutol optic neuropathy. J Ocul Pharmacol Ther Off J Assoc Ocul Pharmacol Ther. 1997 Oct;13(5):473–7.

Ding X, Chang RT, Guo X, Liu X, Johnson CA, Holden BA, et al. Visual field defect classification in the Zhongshan Ophthalmic Center-Brien Holden Vision Institute High Myopia Registry Study. Br J Ophthalmol. 2016 Dec;100(12):1697–702.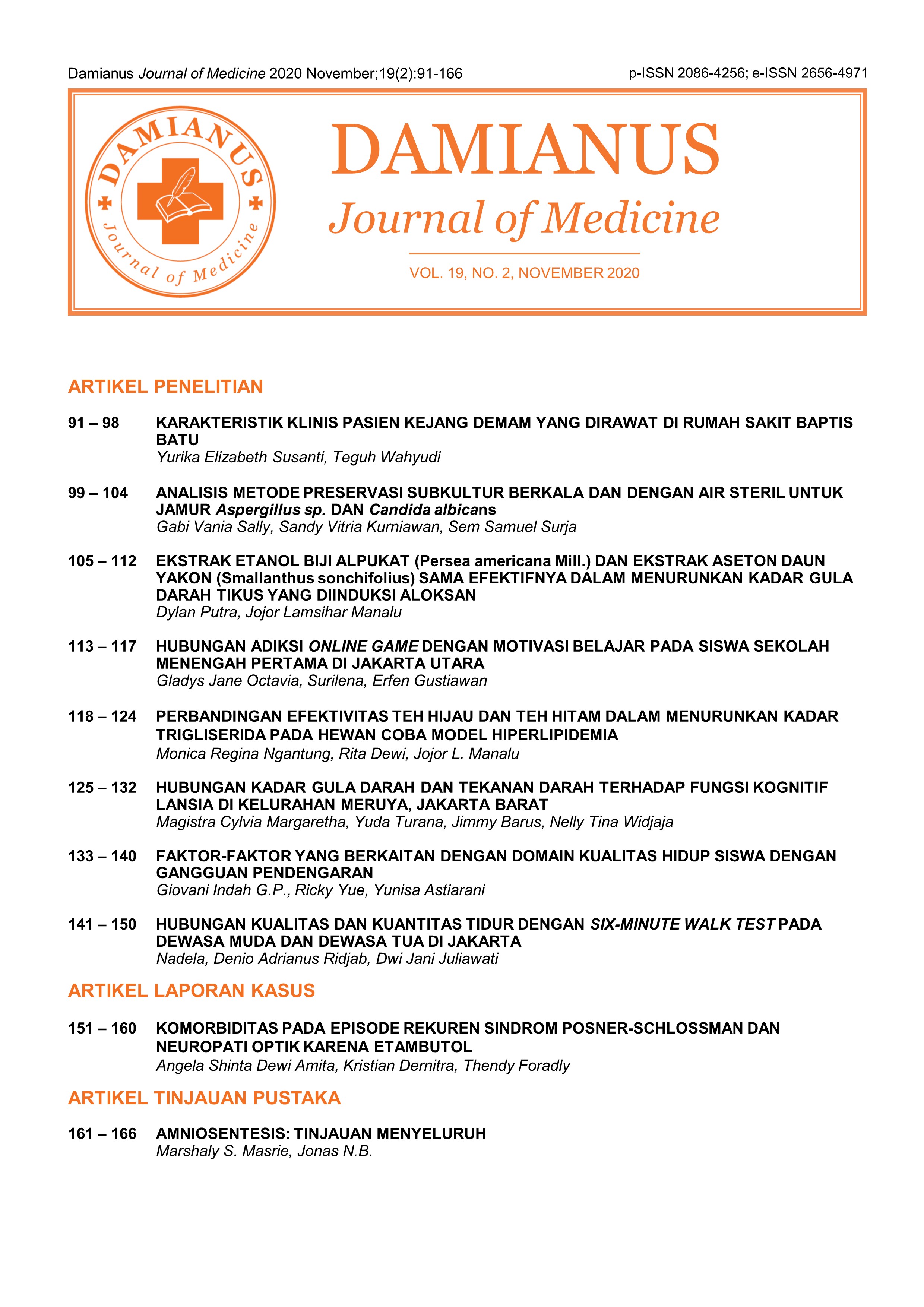 How to Cite
1.
Dewi Amita A, Dernitra K, Foraldy T. COMORBIDITY OF THE RECURRENT EPISODE OF POSNER-SCHLOSSMAN SYNDROME AND ETHAMBUTOL OPTIC NEUROPATHY [Internet]. Damianus Journal of Medicine [Internet]. 27Nov.2020 [cited 25Feb.2021];19(2):151 -160. Available from: http://ejournal.atmajaya.ac.id/index.php/damianus/article/view/1781
This work is licensed under a Creative Commons Attribution-ShareAlike 4.0 International License.

Abstract viewed = 0 times PDF (Bahasa Indonesia) downloaded = 0 times