Impact of Health Education on Epistaxis First Aid Knowledge among Primary School Teacher in Penjaringan District
Meidiana Lie

Atma Jaya Catholic University of Indonesia

Soegianto Ali

Atma Jaya Catholic University of Indonesia
Keywords:
nosebleed, knowledge, health education, first aid
Abstract
Epistaxis is defined as bleeding of the nose that frequently occurs in children. Although epistaxis is not a serious condition, the correct first aid management is necessary to prevent the complication. Primary school teachers take the role of parents in school, therefore they are expected to know the right first aid management of epistaxis. It is expected that health education on epistaxis will increase the knowledge of first aid management on epistaxis. This training aims to know the impact of health education on the knowledge of epistaxis first aid management among primary school teachers in Penjaringan District. The training was evaluated in the pre and post intervention. The respondents were five primary school teachers from elementary schools in Penjaringan Districts, North Jakarta. Data were collected by questionnaire based interview taken from Dr.Nymbaka O. Kevin M. Med ENT, Head & Neck Surgery Resident "An Assessment of Knowledge, Attitude and Practice in First Aid Management of Epistaxis" before and after the health education. The results showed that there was an increase of number of teacher with good level of knowledge on epistaxis management from 5,3% to 96,1% after the health education. The paired t-test analysis shows the increase was statistically significant. Evaluation of the training confirmed that epistaxis health education improved the knowledge of epistaxis first aid management among primary school teachers in Penjaringan District.
References
Arikunto, S (2006). Prosedur penelitian: Suatu pendekatan praktik. Jakarta:. PT Rineka Cipta.

Barnes, M.L., Spielmann, P.M., & White, P.S. (2012). Epistaxis: a contemporary evidence based approach. Otolaryngol. Clin. North Am, 45(5), 1005--17.

Baser, M., Coban, S., Taşci S., Sungur G., & Bayat M. (2007). Evaluating first-aid knowledge and attitudes of a sample of Turkish primary school teachers. J. Emerg Nurs, 33(5),428–32.

Effendy, N. (1998). Dasar-dasar keperawatan kesehatan masyarakat. Jakarta: EGC.

Fazal, F., Mane PP, Rai MP, et.al. (2014) The phytochemistry, traditional uses and pharmacology of Piper Betel. linn (Betel Leaf): A pan-asiatic medicinal plant. Chin. J. Integr. Med.. Doi: 10.1007/s11655-013-1334-1.

KBBI (Kamus Besar Bahasa Indonesia) (2017). Arti kata pengetahuan. http://www.kamuskbbi.id/kbbi/artikata.php?mod=view&Pengetahuan&id=48518-arti-maksud-definisi-pengertian-Pengetahuan.html. [15 Mar 2017]

Middleton, P.M. (2004). Epistaxis. Emerg Med Australas, 16(5–6),428–40.

Min, H.J., Kang, H., Choi, G.J., & Kim, K.S.(2017). Association between hypertension and epistaxis: Systematic review and meta-analysis. Otolaryngol. Head Neck Surg. 157(6), 921-7.

Mugwe, P, Kamau, K.J., & Nyambaka, O.K. (2014). Knowledge, attitude and practice in first aid management of epistaxis by accident and emergency clinical staff at Kenyatta National Hospital, East Cent. Afr. J. Surg, 19(1),17–21.

Notoatmodjo, S. (2014). Ilmu perilaku kesehatan. Jakarta: Rineka Cipta.

Quoc, A. (2017). Epistaxis: Background, Anatomy, Pathophysiology. http://emedicine.medscape.com/article/863220-overview. [15 Mar 2017].

Simmen, D.B., Jones, N.S. (2015). Epistaxis. In Paul W, Flint MD, Bruce H, et.al. (eds). Cummings otolaryngology, 6th ed. Elsevier Saunders.

Sutopo, T. (2016). Uji ekstrak etanol 70% daun sirih (Piper betle L.) terhadap bleeding time pada mencit jantan galur swiss webster. http://eprints.ums.ac.id/ [Nov 2018].

Tedjasulaksana, R., Nahak, M.M, Larasati, R. (2017). Effectivity of betel leaf (Piper betle L.) gel extract in shortening bleeding time after deciduous tooth extraction. Bali Med J.,6(1),31-33.

Viljoen, J. (2008). Epistaxis in children: Approach and management. Contin Med Educ, 21(11),664.

Webb, M., Bond, M., Beale, P., et al. (1999) First aid manual: The authorised manual of St. John Ambulance, St. Andrew's Ambulance Association and the British Red Cross. Ed ke-7. Dorling Kindersley, London: Sydney.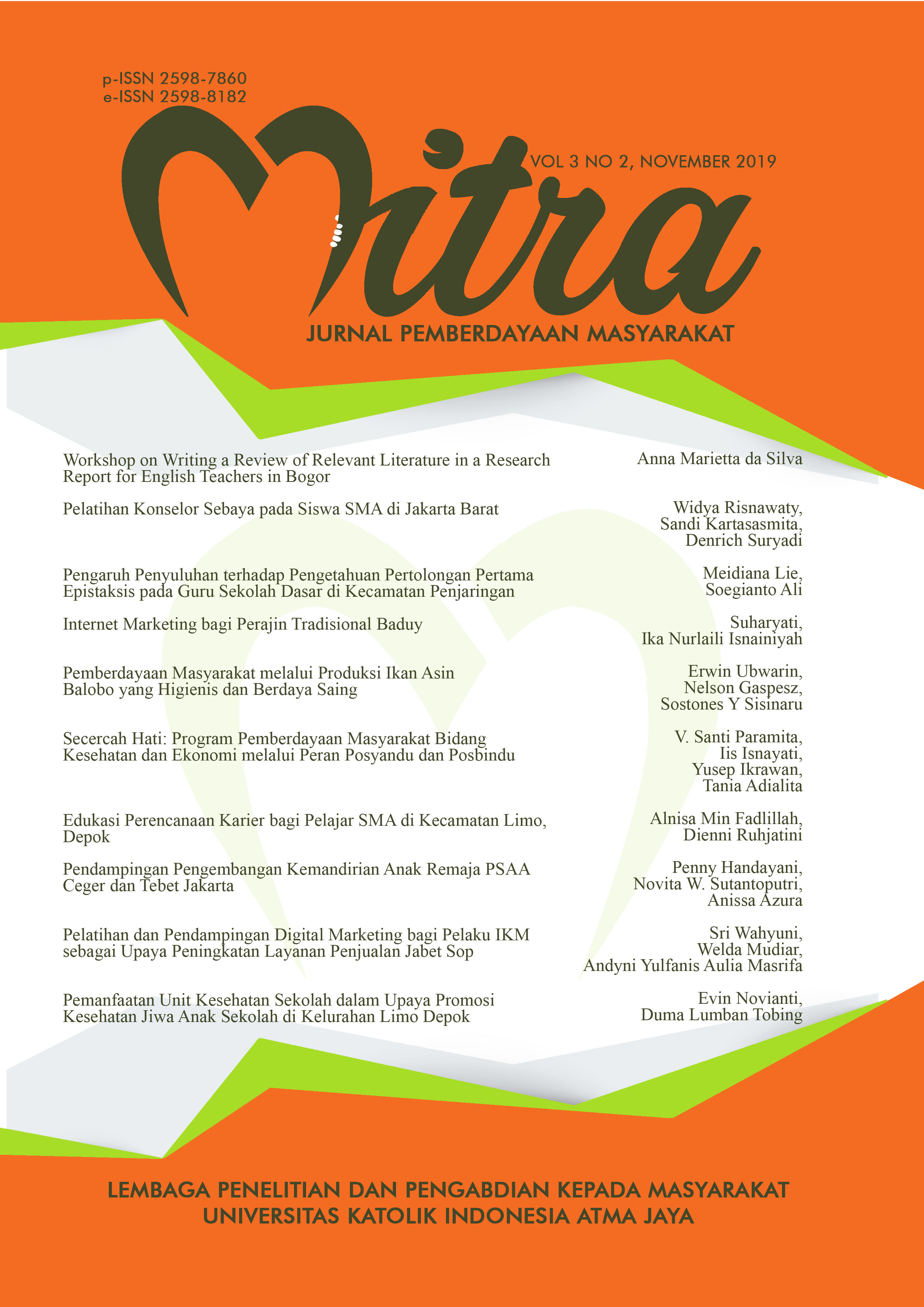 How to Cite

Lie, M., & Ali, S. (2019, November 20). Impact of Health Education on Epistaxis First Aid Knowledge among Primary School Teacher in Penjaringan District. MITRA: Jurnal Pemberdayaan Masyarakat, 3(2), 120-129. https://doi.org/https://doi.org/10.25170/mitra.v3i2.378

This license allows reusers to distribute, remix, adapt, and build upon the material in any medium or format for noncommercial purposes only, and only so long as attribution is given to the creator. If you remix, adapt, or build upon the material, you must license the modified material under identical terms.

Abstract viewed = 14 times PDF (Bahasa Indonesia) downloaded = 35 times