Internet Marketing for Traditional Craftsmen of Baduy
Suharyati Suharyati

Universitas Pembangunan Nasional Veteran Jakarta

Ika Nurlaili Isnainiyah

Universitas Pembangunan Nasional Veteran Jakarta
Keywords:
internet marketing; social media; Instagram; Baduy
Abstract
Regulation of the Minister of Home Affairs of the Republic of Indonesia No.1 of 2013 explain that the Indonesian government continues to strive to alleviate poverty and improve the welfare of the population through community empowerment activities. The 4.0 industrial revolution era triggered the digital technology trend, especially the internet to support product marketing, e.g. by reducing marketing costs and labor costs. However, the lack of technological knowledge is undeniable on a number of Indonesian population, such as MSME entrepreneurs of Outer Baduy traditional craftsmen in the Kanekes village. Government support is needed through ongoing activities with higher education institutions to provide education and assistance on product marketing (internet marketing). Community service held by lecturers from the Faculty of Economics, UPN Veteran Jakarta, aims to empower and raise the knowledge of the Outer Baduy community regarding internet marketing education and practice using social media. The approach used in this activity consists of talks, module creation, tutorials and practice on product marketing strategies using social media such as Instagram and Facebook. Based on the questionnaire analysis results, it is identified that the understanding of social media features for the promotion, networking and marketing expansion from participants has reached 68,57%.
Keywords: internet marketing; social media; Instagram; Baduy
References
Bain, D. (2012). The 13 pillars of internet marketing. Purple internet marketing limited. Retrieved from www.26WeekPlan.com.

Evans, D., & McKee, J. (2010 ). Social media marketing the next generation of business engagement. Canada: Wiley Publishing, Inc., Indianapolis, Indiana Published simultaneously.

Gray, N., & Fox, M. (2018). Social media marketing-step by step instructions for advertising your business on facebook, youtube, instagram, twitter, pinterest, linkedin and various other platforms. Copyright 2018 by Noah Gray - All rights reserved.

Hamza, Z. (2017, Agustus 05). Pengusaha UMKM di Lebak meningkat. http://www.republika.co.id/. Diakses 4 Juli 2019.

Kotler, P., & Amstrong, G. (2012). Principles of marketing (Fourteen Edition ed.). England: Pearson Education Limited.

Lestari, D. P. (2016). Analisis strategi internet marketing butik online di Surabaya melalui Instagram. Commonline Departemen Komunikasi, 4(2).

Marketo.com. (2019). Introducing the definitive guide to social media marketing. https://blog./2016/08/introducing-the-definitive-guide-to-social-media-marketing.html © Copyright 2019, Adobe. All rights reserved.

Peraturan Menteri Dalam Negeri Republik Indonesia No.1 Tahun 2013. Pemberdayaan masyarakat melalui gerakan pemberdayaan dan kesejahteraan keluarga.

Richard, D.A. & Joni, O.H. (2010). Analisis pengaruh internet marketing terhadap pembentukan word of mouth dan brand awareness untuk memunculkan intention to buy. 9 (1).

Scarborough, N. M. (2012). Effective small business management: An entrepreneurial approach, 10. USA, New Jersey: Pearson Education, Inc.,publishing as Prentice Hall.

SMstudy®. (n.d.). Marketing Strategy. 2017Phoenix, Arizona 85008 USA: a brand of VMEdu®, Inc. All rights reserved. Retrieved from www.smstudy.com

Suara.com. (2019, 09 03). Lebak mimpi UKM Baduy tembus pasar dunia.
https://www.suara.com/news/2016/09/03/023100/lebak-mimpi-ukm-baduy-tembus-pasar-dunia. Diakses 29 Juli 2019.

Treadaway, C., & Smith, M. (2010). Facebook marketing: An hour a day (1st ed.). in Canada: Wiley Publishing, Inc., Indianapolis, Indiana Published simultaneously.

Warta Ekonomi.co.id. (2018). Ini prospek ekonomi Indonesia. Retrieved from versi BI https://www.wartaekonomi.co.id/read162938/ini-prospek-ekonomi-indonesia-2018 - versi-bi.html. Diakses 4 Agustus 2019.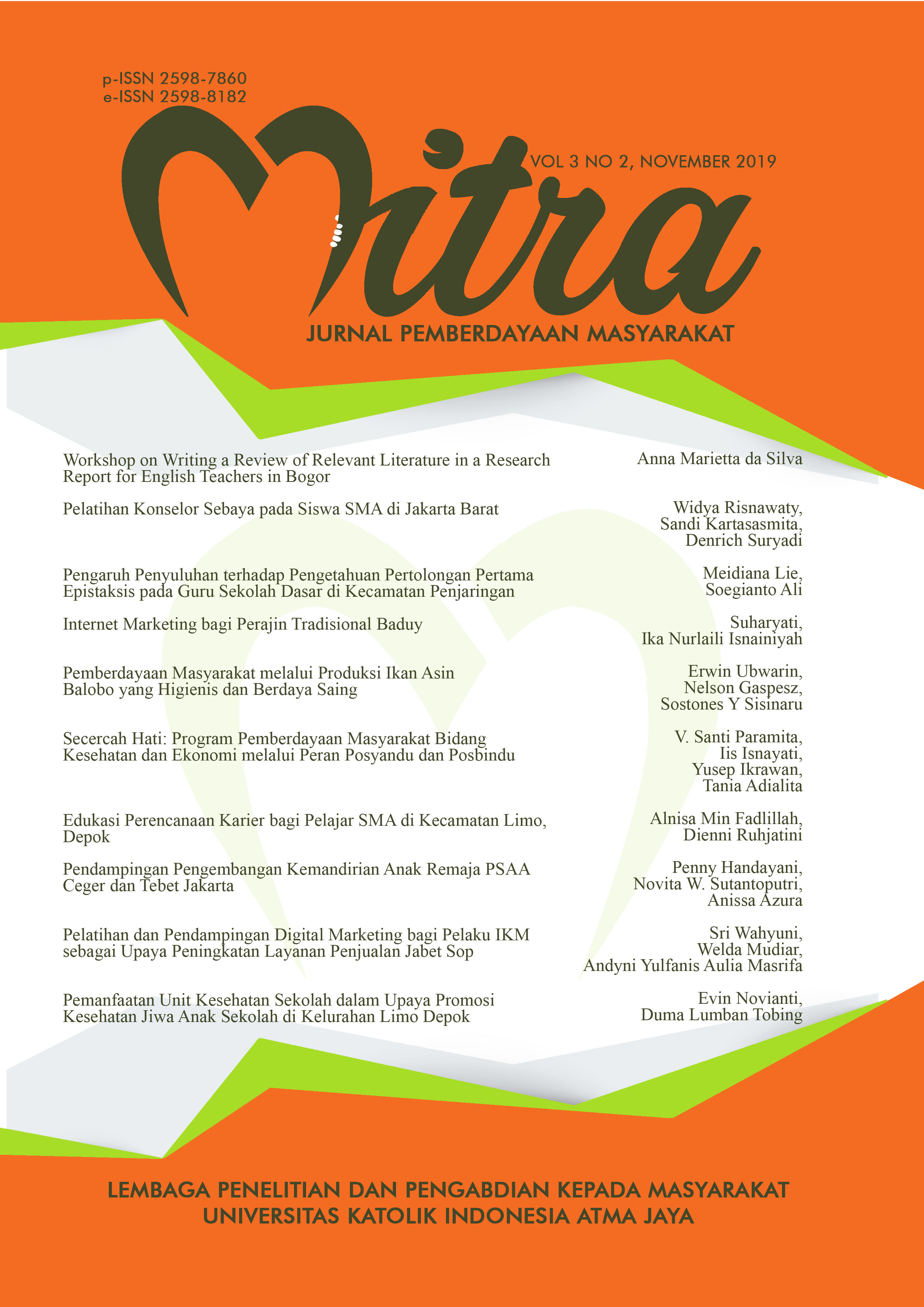 How to Cite

Suharyati, S., & Isnainiyah, I. (2019, November 26). Internet Marketing for Traditional Craftsmen of Baduy. MITRA: Jurnal Pemberdayaan Masyarakat, 3(2), 130-140. https://doi.org/https://doi.org/10.25170/mitra.v3i2.843

This license allows reusers to distribute, remix, adapt, and build upon the material in any medium or format for noncommercial purposes only, and only so long as attribution is given to the creator. If you remix, adapt, or build upon the material, you must license the modified material under identical terms.

Abstract viewed = 5 times PDF (Bahasa Indonesia) downloaded = 20 times