Incubators for Household-Scale Yoghurt Production in Improving Production Process in Kuningan District
Abu Amar

Institut Teknologi Indonesia

Muhami Muhami

Institut Teknologi Indonesia

Iyus Hendrawan

Institut Teknologi Indonesia

Edward S Tampubolon

Institut Teknologi Indonesia
Keywords:
incubator, yoghurt quality, milk performance, socialization
Abstract
The quality of yoghurt produced in District of Cipari, Cigugur Kuningan Regency failed to meet the required standard despite the fact that socialization of yoghurt GMP program, facilitation and delivery of inkubator for yoghurt production had been implemented. Therefore, this study reported the performance of the incubators which had been produced and granted to two cooperatives in the District of Cipari, Kuningan, namely Laras Ati and Lembah Kamoning. The method used was to directly test the incubators for the production of yoghurt in a laboratory Institut Teknologi Indonesia and in Kuningan. Five litres of cow's milk that had been heated to a temperature of 90° C for 15 minutes and cooled down to a temperature of 40° C were directly inoculated with a 10% volume of fresh commercial yoghurt starter, culture consisting of Lactobacillus acidophilus, Streptococcus thermophilus and Bifidobacterium. The measured parameters were incubator temperature stability, product's pH value, total acid and organoleptic of product. The results showed that the performance of the two incubators were in good condition. It was proved by stable temperature in the range of 44.1±0.6°C during evaluation within 7 hours of incubation. During fermentation, pH of the product has decreased and reached a pH value of 4.6 ± 0:02 within 7 hours of incubation, total acid reached 0.84±0.052%. The organoleptic product of yoghurt showed the percentage of product acceptance reached 85%, 83%, 86% and 82% in colour/appearance, texture, odour/flavour and taste respectively. The two delivered incubators met the required standard, thereby making the household-scale production process of yoghurt safe for public consumption. Yoghurt ready for sale and kept at the room temperature remains fresh and does not suffer damage because the packaging is not inflated as before.Yoghurt that is ready to be sold and even kept at room temperature remains fresh and does not suffer damage ie. the packaging is not inflated as before.
References
American Iron and Steel Institute. (1978). Review of the wear and galling characteristic of steinless steel committee of steinless steel producers. https://www.nickelinstitute.org/~/Media/Files/TechnicalLiterature/ReviewofWea randGallingCharacteristicsofStainlessSteel_9006_.pdf. Diakses 18 Oktober 2016.

AOAC. (1990). Official methods of analysis of the association analytical chemistry. Washington, D.C.

Dinas Pertanian, Peternakan, dan Perikanan Kabupaten Kuningan. (2014). http://www.kuningankab.go.id/sumber-daya-alam/peternakan. Diakses 28 Desember 2016.

Fardiaz, D., Puspitasari, N.L., & Palupi, H. (1986). Penuntun praktikum analisa pangan. IPB, Bogor: TPG-Fateta.

Fliedner, I. & Wilhelmi. (1993). Grundlagen pruefverfahren der lebensmittelsensorik. Behr's verlag, Berlin, 197--222.

Mitlin, D. (2016). Community based data collection empowers slum dwellers, Develovment and Corporation, 43(11--12), 13.

Pilinkus, D. & Boguslauskas, V. (2005). Implementation of new technologies in information society engineering economics. The Economic Conditions of Enterprise Functioning, 2 (42), 35--44.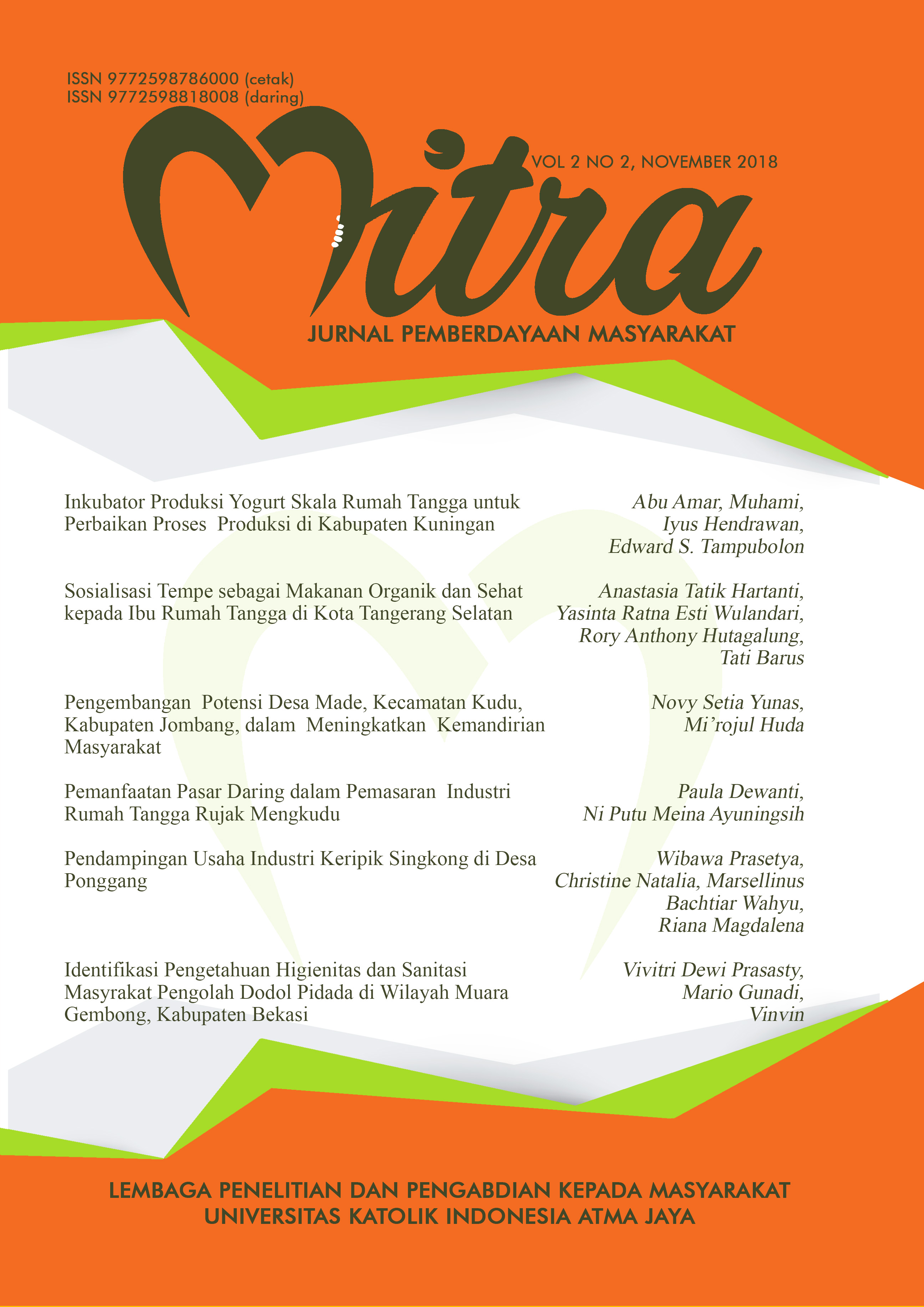 How to Cite

Amar, A., Muhami, M., Hendrawan, I., & Tampubolon, E. (2018, November 1). Incubators for Household-Scale Yoghurt Production in Improving Production Process in Kuningan District. MITRA: Jurnal Pemberdayaan Masyarakat, 2(2), 80 - 91. https://doi.org/https://doi.org/10.25170/mitra.v2i2.102

This license allows reusers to distribute, remix, adapt, and build upon the material in any medium or format for noncommercial purposes only, and only so long as attribution is given to the creator. If you remix, adapt, or build upon the material, you must license the modified material under identical terms.

Abstract viewed = 106 times PDF (Bahasa Indonesia) downloaded = 185 times