The Village Potential Development in The Made Village, Jombang, in Improving The Welfare and Independence of The Community
Novy Setia Yunas

Universitas Brawijaya

Mi'rojul Huda

Universitas Brawijaya
Keywords:
assisted village, community empowerment, potential village
Abstract
The ability and freedom without opportunities would make people in the countryside remain poor. The aim of this community service was to provide facilitation and direction to make a community or a group become empowered, independent, and prosperous. This empowerment program used lecturing and training/workshop approach, as well as mentoring and mentoring by providing experience and direct assignments to groups of gadung crisps craftsmen, PKK and dasawisma. The results of this community service showed that the potential possessed by the Made Village community is quite large. Unfortunately some government policies were considered not right on target, and the lack of access and information made the skills of the community unable to develop optimally. The results of this program which took the form of a smart home program in the field of education, the branding of Srikandi Made in the field of women's empowerment and the environment, as well as the marketing management knowledge of chipmakers in the field of microeconomics, are considered to be able to become a model for the development of villages that can give a new nuance in developing the village potential and the most important economic, social and educational impact on the community in Made Village.
References
Bappenas. (2004). The economics of democracy: Financing. Jakarta: Bappenas.

Cernea, M.M. (1988). Mengutamakan manusia di dalam pembangunan: Variabel-variabel sosiologi di dalam pembangunan pedesaan. Jakarta: UI Press.

Eko, S. (2014). Desa membangun Indonesia. Yogyakarta: FPPD.

Peraturan Pemerintah No. 47 Tahun 2015 tentang Peraturan Pelaksanaan Undang-Undang No. 6 Tahun 2014 tentang Desa.

Syafrizal. 2014. Perencanaan pembangunan daerah dalam era otonomi. Jakarta: Raja Grafindo Persada.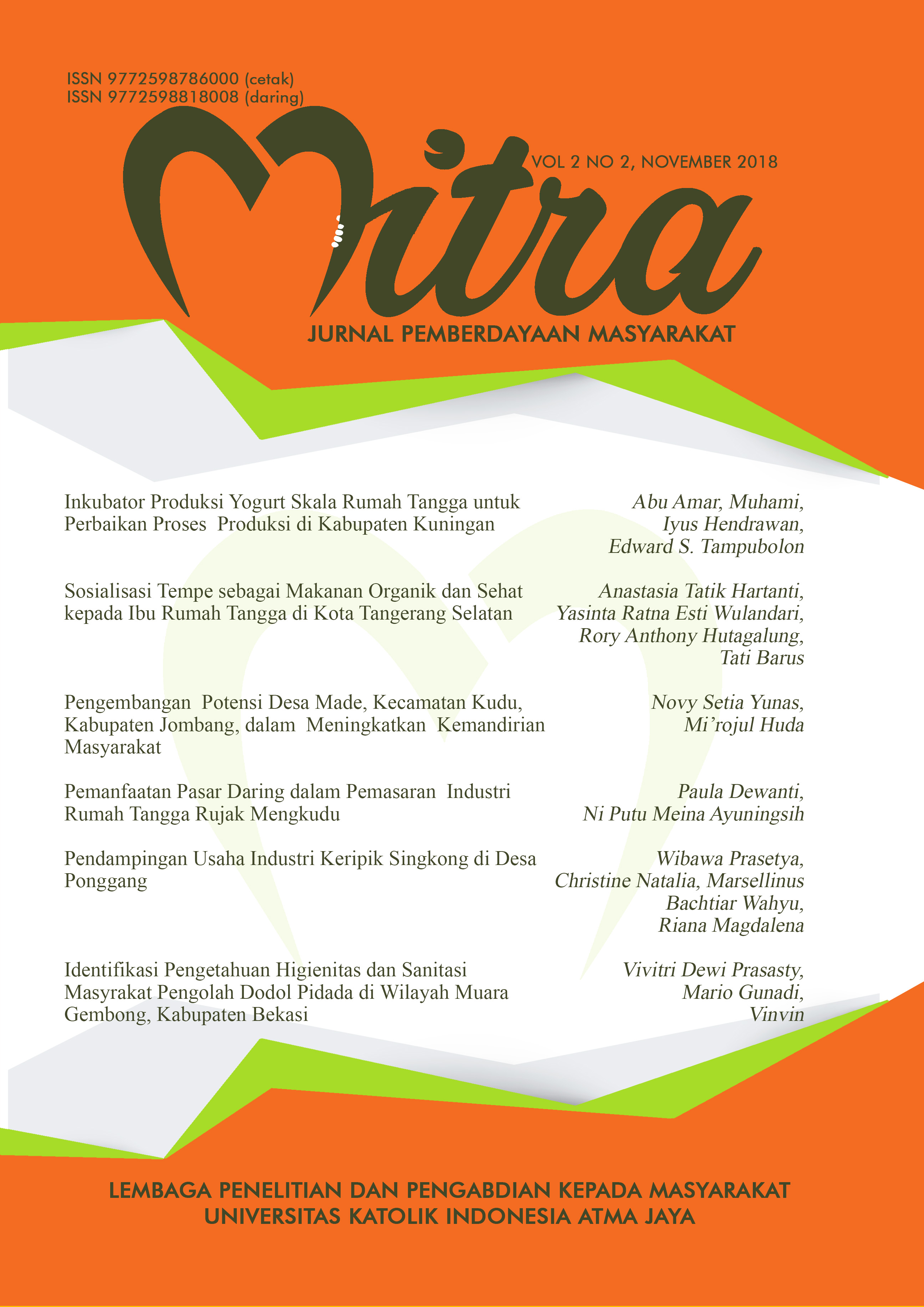 How to Cite

Yunas, N., & Huda, M. (2018, November 1). The Village Potential Development in The Made Village, Jombang, in Improving The Welfare and Independence of The Community. MITRA: Jurnal Pemberdayaan Masyarakat, 2(2), 104 - 113. https://doi.org/https://doi.org/10.25170/mitra.v2i2.104

This license allows reusers to distribute, remix, adapt, and build upon the material in any medium or format for noncommercial purposes only, and only so long as attribution is given to the creator. If you remix, adapt, or build upon the material, you must license the modified material under identical terms.

Abstract viewed = 112 times PDF (Bahasa Indonesia) downloaded = 77 times