Drug Information Service during Covid-19 Pandemic
Sherly Tandi Arrang

Universitas Katolik Indonesia Atma Jaya

Reynelda Juliani Sagala

Universitas Katolik Indonesia Atma Jaya

Dion Notario

Universitas Katolik Indonesia Atma Jaya

Erlia Anggrainy Sianipar

Universitas Katolik Indonesia Atma Jaya

Fonny Cokro

Universitas Katolik Indonesia Atma Jaya
Keywords:
Distance; Drug Information Services;  Education; Self-medication
Abstract
Pharmacists and pharmaceutical personnel need to support improving the people's quality of life during the covid-19 outbreak by providing pharmaceutical services, one of which is the Drug Information Service (PIO). Many regions in Indonesia, including DKI Jakarta, have placed large-scale social restrictions since March 2020. In connection with that, the Department of Pharmacy of Atma Jaya Catholic University of Indonesia (PSFUAJ) organized an online PIO program. This program aimed to provide the service of Covid-19 drug-related information and education to the community. The PIO was carried out from April to July 2020 via whatsapp, email, and telephone. In addition, health education was provided through e-flyers, published on Instagram @pio_farmasi_uaj. Eighty percent of the questions were submitted via whatsapp, while the rest was sent via email. Most of the questions submitted (80%) were categorized into self-edication. Further examination shows that the common questions were related to drug choice (27.78%). These data indicate that most questioners tend to provide self-medication first and that they will only see a doctor if they have not recovered or experienced any improvement. PSFUAJ will continue running this program and disseminating this program to a broader audience.
References
Baldoni, S., Amenta, F., & Ricci, G. (2019). Telepharmacy services : Present status and future perspectives : A review. Medicina, 55, 1–12.

Direktorat Bina Farmasi Komunitas dan Klinik Ditjen Bina Kefarmasian dan Alat Kesehatan Departemen Kesehatan. (2006). Pedoman penggunaan obat bebas dan bebas terbatas. Jakarta: Departemen Kesehatan Republik Indonesia.

Menteri Kesehatan Republik Indonesia. Peraturan Menteri Kesehatan Republik Indonesia Nomor 72 Tahun 2016 tentang Standar Pelayanan Kefarmasian di Rumah Sakit.

Menteri Kesehatan Republik Indonesia. Peraturan Menteri Kesehatan Republik Indonesia Nomor 73 Tahun 2016 tentang Standar Pelayanan Kefarmasian di Apotek.

Menteri Kesehatan Republik Indonesia. Peraturan Menteri Kesehatan Republik Indonesia Nomor 20 Tahun 2019 tentang Penyelenggaraan Pelayanan.

Poudel, A., & Nissen, L. (2016). Telepharmacy: A pharmacist's perspective on the clinical benefits and challenges. Integrated Pharmacy Research and Practice, 5, 75–82.

Reppe, L. A., Spigset, O., & Schjøtt, J. (2016). Drug information services today: Current role and future perspectives in rational drug therapy. Clinical Therapeutics, 38(2), 414–421. https://doi.org/10.1016/j.clinthera.2015.12.019.

Suherman, H., & Febrina, D. (2018). Tingkat pengetahuan pasien tentang swamedikasi obat. Viva Medika, Seri 2(Edisi Khusus), 11(3), 82–93.

Tumiwa, N.N.G., Yamlean, P.V.Y., & Citraningtyas, G. (2014). Pelayanan informasi obat terhadap kepatuhan minum obat pasien geriatri di instalasi rawat inap RSUP Prof. dr.R.D.Kandou Manado. Pharmacon, 3(3), 310–315.

WHO Policy Perspectives on Medicines. (2002). Promoting rational use of medicines: Core components. Retrieved from https://www.who.int/medicines/publications/policyperspectives/ppm05en.pdf.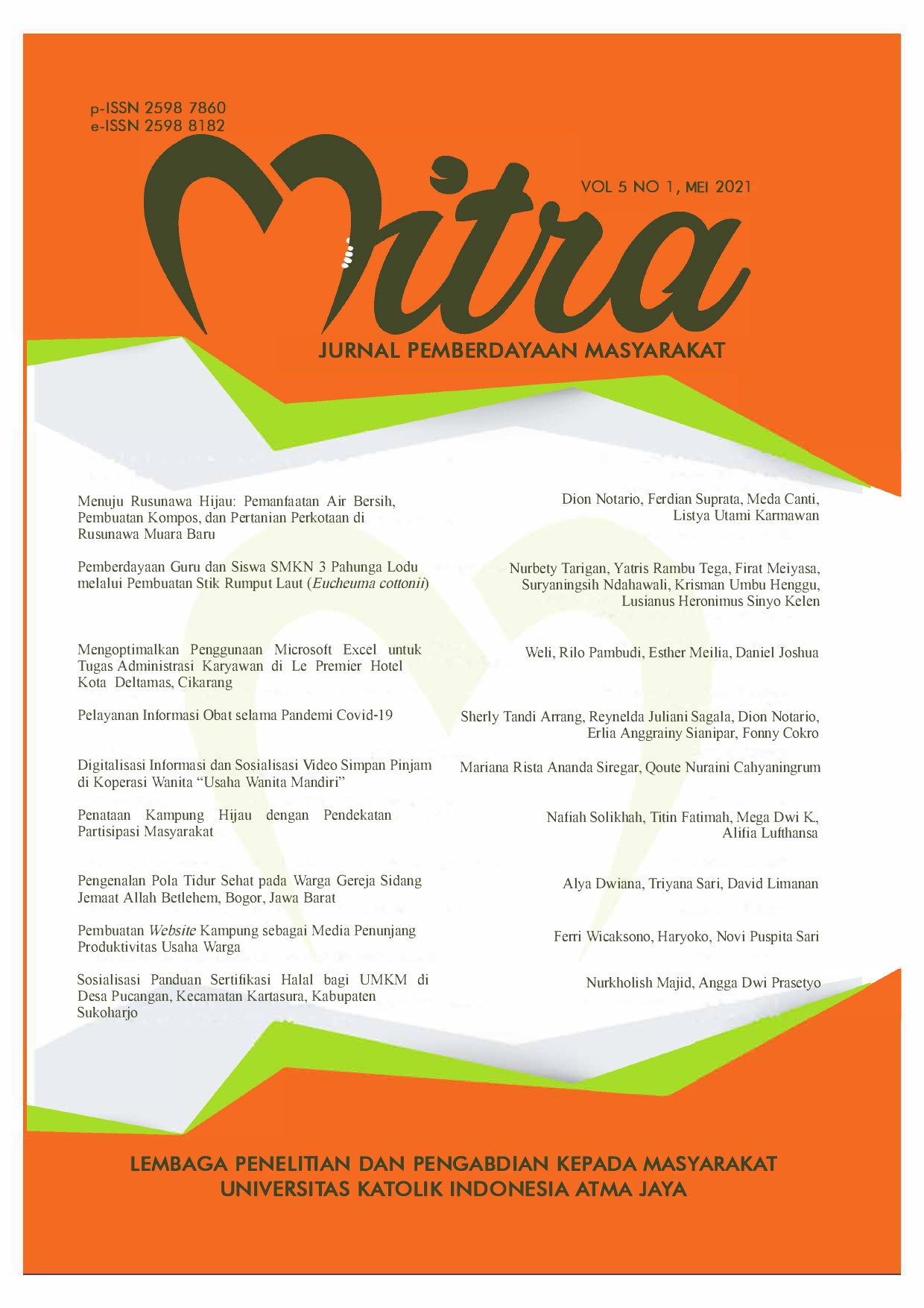 How to Cite

Arrang, S., Sagala, R., Notario, D., Sianipar, E., & Cokro, F. (2021, May 26). Drug Information Service during Covid-19 Pandemic. MITRA: Jurnal Pemberdayaan Masyarakat, 5(1), 30-37. https://doi.org/https://doi.org/10.25170/mitra.v5i1.1467

This license allows reusers to distribute, remix, adapt, and build upon the material in any medium or format for noncommercial purposes only, and only so long as attribution is given to the creator. If you remix, adapt, or build upon the material, you must license the modified material under identical terms.

Abstract viewed = 55 times PDF (Bahasa Indonesia) downloaded = 153 times