PEMODELAN ALOKASI KEUANGAN KOLEKTE MINGGU DALAM MENINGKATKAN KEKUATAN KEUANGAN PAROKI DI KEUSKUPAN AGUNG JAKARTA
FINANCIAL MODELING ALLOCATION OF THE SUNDAY COLLECTION IN INCREASING THE FINANCIAL STRENGTH OF PARISHES IN THE JAKARTA ARCHDIOCESE
Albertus Ary Dianto

PPM Manajemen

Aries Heru Prasetyo

Program Magister Manajemen Eksekutif, Sekolah Tinggi Manajemen PPM, Indonesia
Keywords:
diocese, parish, collection, pastoral solidarity fund, liquidity ratio, valuation, financial modeling.
Abstract
The Jakarta Archdiocese is a religious institution of the Catholic Church which as a religious institution has a specificity in managing its finances by referring to the Church Law and applicable public finance regulations. The characteristic of keuangan governance in the Jakarta Archdiocese can be seen from the implementation of the allocation and collection policies on Sundays, which are the main source of parish income. Funds obtained by parishes must be deposited to the diocese as a form of solidarity as stipulated in the percentage policy of the Pastoral Solidarity Fund, while the remaining funds in the parish are used to finance operations and other activities. The increasing number of parishes that apply for Collection II from year to year shows the increasing need for parish operational funds that must be met. Through the assessment of the DSP percentage policy, it is hoped that alternative keuangan modeling proposals will be obtained related to the policies implemented so that the parish has good keuangan strength. By conducting keuangan analysis based on keuangan position reports, activity reports and cash flow reports, we want to know the liquidity ratios that indicate the parish's keuangan performance so that they can be taken into consideration in making appraisal assessments.
References
Behringer, S. (2016). The development of the net present value rule – Religious prohibitation and its evolution. Review of Economics & Finance, 6(3), 74-87.

Damodaran, A. (2002). Investment Valuation. Tools and Techniques for determining The Value of any Asset, New York: John Willey & Sons, Inc.

Gharbi, L. (2016). A critical analysis of the use of fair value by Islamic financial institutions. Journal of Islamic Accounting and Business Research, 7 (2), 170-183.

Hardani, Andriani, H., Ustiawaty, J., Utami, E.F., Istiqomah, R.R., Fardani, R.A., Sukmana, D.J., Auliya, N.H. (2020). Metode Penelitian Kualitatif dan Kuantitatif. Yogyakarta: Pustaka Ilmu.

Hardawiryana, R. (2016). KITAB HUKUM KANONIK (Codex Iuris Canonici), Edisi Resmi Bahasa Indonesia, KWI, Jakarta.

Hillary, G., Hui, K.W. (2009). Does religion matter in corporate decision making in America? Journal of Financial Economics, 93(3), 455-473.

Kasmir. (2015). Analisis Laporan Keuangan. Jakarta: Rajawali Pers.

Penman, S. (2001). Keuangan statement analysis and security valuation, McGraw-Hill, Singapore, Jurnal Akuntansi dan Investasi Vol. 3 No. 2, (Juli 2002).

Prasetyo, A.H. (2014), Pemodelan Keuangan. Jakarta: PPM Manajemen.

Shafii, Z., Rahman, A.R.A. (2016). The application of IFRS9 and fair value measurement for Islamic financial instrument. Journal of Islamic Accounting and Business Review, 7 (3), 202-214.

Tim Keuangan Keuskupan Agung Jakarta. (2019). Pedoman Keuangan Paroki, Jakarta.

Tim Temu Kanonis Regio Jawa. (1993). DOKUMEN KONSILI VATIKAN II. Jakarta: OBOR.

Wild, J.J., Shaw, K.W., Venkatesh, S., Kwok, W., Chiappetta, B. (2016). Fundamental Accounting Principles – Second Edition Asia Glonal Edition. Singapore: McGraw-Hill Education.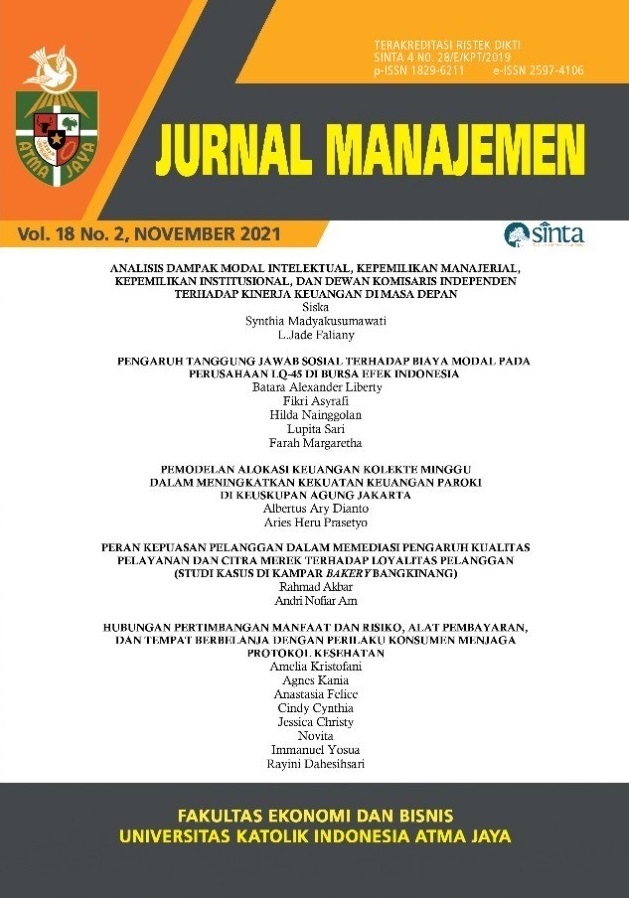 Authors who publish with this journal agree to the following terms:

Authors retain copyright and grant the journal right of first publication with the work simultaneously licensed under a Creative Commons Attribution-NonCommercial-ShareAlike License that allows others to share the work with an acknowledgement of the work's authorship and initial publication in this journal.

Authors are able to enter into separate, additional contractual arrangements for the non-exclusive distribution of the journal's published version of the work (e.g., post it to an institutional repository or publish it in a book), with an acknowledgement of its initial publication in this journal.

Authors are permitted and encouraged to post their work online (e.g., in institutional repositories or on their website) prior to and during the submission process, as it can lead to productive exchanges, as well as earlier and greater citation of published work (See the Effect of Open Access).

Abstract viewed = 18 times PDF downloaded = 35 times