Penyusunan Panduan Mandiri Pengembangan Kompetensi Agen Perubahan Internal
Strategi Meretas Batasan dan Mengelola Perubahan Secara Efektif
Leonardus Dewa Hardana

Magister Profesi Psikologi Unika Atma Jaya

Rayini Dahesihsari
Keywords:
self-guided manual, internal change agent, boundary spanning, change management
Abstract
Abstract
The main challenge for internal change agents is to overcome the ambiguity of their role as members of the organization who at the same time have to manage change in the organization. These challenges lead to the emergence of various boundaries encountered in organizations, which need to be spanned with the right strategy for change to be managed effectively. Unfortunately, there have not been many guidelines and training specifically provided to internal change agents, particularly regarding the constraints encountered and strategies for overcoming those boundaries. Generally, available training programs and guidance provided develop the ability to manage change in general. This self-guided manual for internal change agents aims to develop the ability of internal change agents, especially in overcoming the ambiguity of their role in the organization, by recognizing the boundaries they face and strategies for breaking those boundaries.
This guide was developed based on the results of previous research that qualitatively explored the role of internal change agents in managing change in organizations, particularly in recognizing the boundaries encountered and their strategies for breaking boundaries so that organizational change can take place effectively. There are 3 stages carried out, namely 1) preparation, 2) guide development, and 3) evaluation and dissemination. This guidebook with the title "Spanning Boundaries, Becoming a Reliable Internal Change Agent" is organized into 4 parts, namely: Section (1) Organizational Change and the Role of Change Agents, (2) Boundaries Found in Implementing Change, (3) Strategies to Overcome Boundaries, (4) Personal Characters Needed to Overcome Boundaries and How to Develop It. It is hoped that because it is based on empirical data, the guidelines that have been compiled can develop the insight of internal change agents to be able to answer the concrete challenges faced to be able to manage change effectively.
Keywords: Self-Guided Manual, Internal Change Agent, Boundary Spanning, Change Management
Abstrak
Tantangan utama agen perubahan internal adalah mengatasi ambiguitas perannya sebagai anggota organisasi yang pada saat yang bersamaan harus mengelola perubahan di organisasi. Tantangan ini menyebabkan munculnya berbagai batasan yang ditemui dalam organisasi, yang perlu dapat diretas dengan strategi yang tepat agar perubahan dapat dikelola secara efektif. Sayangnya belum banyak ditemukan panduan dan pelatihan yang khusus diberikan kepada agen perubahan internal, khususnya terkait dengan batasan yang ditemui dan strategi untuk meretas batasan tersebut. Umumnya program pelatihan dan panduan yang diberikan mengembangkan kemampuan mengelola perubahan secara umum. Panduan mandiri (self guided manual) untuk agen perubahan internal ini bertujuan untuk mengembangkan kemampuan agen perubahan internal, khususnya dalam mengatasi ambiguitas perannya dalam organisasi, dengan mengenali batasan yang dihadapi serta strategi meretas batasan tersebut.
Panduan ini dikembangkan berdasar hasil penelitian yang dilakukan sebelumnya yang mengeksplorasi secara kualitatif peran agen perubahan internal dalam mengelola perubahan dalam organisasi, khususnya dalam mengenali batasan yang ditemui serta strategi mereka dalam meretas batasan agar perubahan organisasi dapat berlangsung secara efektif. Terdapat 3 tahapan yang dijalankan, yakni tahapan 1) persiapan, 2) pengembangan panduan, dan 3) evaluasi dan diseminasi. Panduan dengan judul "Meretas Batasan, Menjadi Agen Perubahan Internal yang Handal" disusun menjadi 4 bagian, yakni: Bagian (1) Perubahan Organisasi dan Peran Agen Perubahan, (2) Boundary yang Ditemui dalam Mengimplementasi Perubahan, (3) Strategi Mengatasi Boundary, (4) Karakter Personal yang Dibutuhkan untuk Mengatasi Boundary dan Cara Mengembangkannya. Diharapkan karena didasarkan pada data empiris, maka panduan yang disusun dapat mengembangkan wawasan agen perubahan internal untuk dapat menjawab tantangan konkrit yang dihadapi agar mampu mengelola perubahan secara efektif.
Kata kunci: Panduan Mandiri, Agen Perubahan Internal, Boundary Spanning, Change Management
References
Ancona, D.G. (1990). Outward Bound: Strategies for team survival in an organization, Academy of Management Journal 33 (2): 334–336.
Ancona, D.G. and Caldwell, D.F. (1992). Bridging the Boundary: External activity and performance in organizational teams, Administrative Science Quarterly 37 (4): 634–665.
Balogun, J., Gleadle, P., Hope Hailey, V., dan Willmott, H. (2005). British Journal of Management, Vol 16, 261-278.
Bartunek, J.M., Rousseau, D.W., Rudolph, J.W., dan DePalma, J.A. (2006). On the Receiving End: Sensemaking, Emotion, and Assessments of an Organizational Change Initiated by Others. Journal of Applied Behavioral Science, Vol. 42 No. 2, June 2006 182-206.
Burke, W. (2011). A Perspective on the Field of Organization Development and Change: The Zeigarnik Effect. The Journal of Applied Behavioral Science, 47 (2), 143–167
Cohen, Norman H. (1995). Mentoring Adult Learners: A Guide for Educators and Trainers (Professional Practices in Adult Education and Human Resource Development). Florida: Krieger Pub Co
Sandy, A. (2009). Cheaper to Fly than hire a car in Brisbane. (Disertasi Doktoral, University of Queensland,2008)
Hardana, L.D. (2021). Boundary yang Ditemui oleh Internal Change Agents dalam Organisasi di Indonesia dan Strategi untuk Mengatasinya (Tesis Magister Psikologi, Unika Atma Jaya, 2021).
Kirkpatrick, D.L. & Kirkpatrick, J.D. (2007). Implementing The Four Levels: A Practical Guide for Effective Evaluation of Training Programs. San Fransisco: Berrett-Koehler Publisher, Inc.
Kirkpatrick, D.L. (1998). Evaluating Training Programs: The Four Levels. San Fransisco: Berrett-Koehler Publisher, Inc.
Li, Jo-Yun, Sun, R., Tao, W., dan Lee, Y. (2021). Employee coping with organizational change in the face of a pandemic: The role of transparent internal communication. Public Relations Review, Volume 47, Issue 1, 2021, 101984,ISSN 0363-8111.
Marrone, J.A., Tesluk, P.E. and Carson, J.B. (2007). A Multi-level Investigation of Antecedents and Consequences of Team Member Boundary Spanning Behavior, Academy of Management Journal 50 (6): 1423–1439.
Matous, P., Wang, P. (2019). "External exposure, boundary-spanning, and opinion leadership in remote communities: A network experiment". Social Networks. 56: 10–22. doi:10.1016/j.socnet.2018.08.002
Neergaard, M.A., Olesen, F., Andersen, R.S. (2009) Qualitative description – the poor cousin of health research?. BMC Med Res Methodol 9, 52. https://doi.org/ 10.1186/1471-2288-9-52
Palmer, I., Dunford, R., & Akin, G. (2017). Managing organizational change: A multiple perspectives approach. 3ed ed. Boston: McGraw-Hill/Irwin.
Palus, C., & Mcguire, J., dan Ernst, C. (2011). Developing Interdependent Leadership. SAGE Publications
Randall, J. A., Burnes, B. dan Dawson, P. (2019). Internal change agents: boundary spanned and the implications for change agency. British Academy of Management. September 2019.
Randall, J. A., Burnes, B. dan Sim, Allan J. (2019) Management consultancy: The role of the change agent. London: Red Bull Press.
Schotter, A. P. J., Mudambi, R., Doz, Y.L. and Gaur, A. (2017) Boundary spanning in global organizations. Journal of Management Studies, 54 (4), 403 – 421.
Smither, R. D., Houston, J. M., & McIntire, S. A. (2016). Organization development: Strategies for changing environments. New York: Harper Collins College Publishers.
Sudarnoto, A.H. (2006), Pengantar Manajemen Perpustakaan Madrasah, Jakarta: UIN Syahid Jakarta.
The Royal Dutch Society for Physical Therapy (KNGF) (2016). Guideline methodology manual. Methodology for developing/updating and implementing KNGF guidelines. KNGF Press: Netherlands
Trimo, S. (2001). Pedoman Pelaksanaan Perpustakaan. Bandung: Remaja Karya
Wright, C. (2009). Inside Out? Organizational Membership, Ambiguity and the Ambivalent Identity of the Internal Consultant. British Journal of Management, 20, 309–322.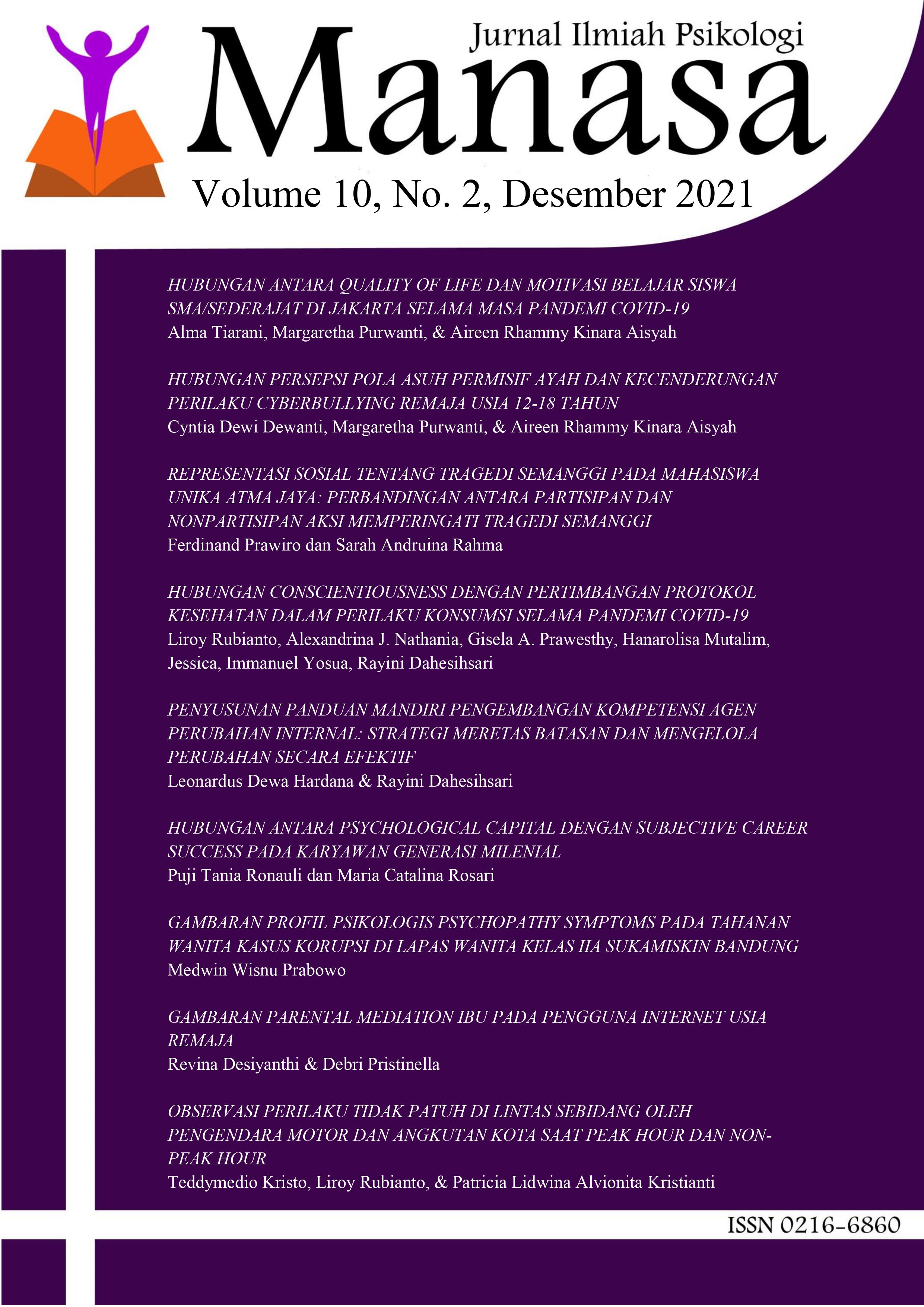 This work is licensed under a Creative Commons Attribution-NonCommercial-ShareAlike 4.0 International License.

Abstract viewed = 15 times PDF downloaded = 6 times