HUBUNGAN ONLINE FRIENDSHIP QUALITY DENGAN KECEMASAN AKAN MENGHADAPI TUGAS AKHIR STUDI PADA MAHASISWA SEMESTER AKHIR DALAM PANDEMI COVID - 19
Abstract
 Having friends can reduce the negative effects of stressful experiences such as facing your thesis.
Due to the COVID-19 pandemic, it is uncertain whether friendship quality possessed by students
has a relationship or not with the anxiety experienced by students. According to Foulkes and
Blakemore (2021), even for the strongest friendships, socialization via the internet is not the same
as face-to-face interaction. So, the mental health benefits you get are not the same as interacting
directly. Therefore, this study aimed to see the relationship between online friendship quality and
anxiety about the final thesis in final semester students during the COVID-19 pandemic. The
quantitative method used in this research with a correlational research design. One hundred and
twenty-two participants were selected using convenience sampling. Questionnaires were
implemented as the data collection technique. The data was analyzed using the Pearson Product Moment correlation test.                  The findings showed that online friendship quality does not have a
significant relationship with anxiety about facing the final thesis in final semester students. It
indicated that the level of one's online friendship quality does not correlate with the level of
anxiety. However, additional test results showed that on the friendship quality variable, the
dimensions of conflict and betrayal negatively correlated with all dimensions of the anxiety.
References
Asher, S. R., & Parker, J. G., (1993). Friendship and Friendship Quality in Middle Childhood: Links with Peer Group Acceptance and Feelings of Loneliness and Social Dissatisfaction. Developmental Psychology, 29(4), 611-621. DOI: 10.1037/0012-1649.29.4.611
Bartlett, J. E., Kotrlik, J. W. & Higgins, C. C. (2001). Organizational research: Determining appropriate sample size in survey research. Information Technology, Learning, and Performance Journal, 19, 43-50.
Bagwell, C. L., Schmidt, M. E. (2011). Guilford series on social and emotional development. Friendships in childhood and adolescence, 21(7), 415–416. https://10.1007/s00787-012-0268-7
Berndt, T. J. (2002). Friendship quality and social development. Current Directions in Psychological Science, 11(1), 7–10. doi:10.1111/1467-8721.00157
Brendgen, M., Vitaro, F., Bukowski, W. M., Dionne, G., Tremblay, R. E., & Boivin, M. (2013). Can friends protect genetically vulnerable children from depression?. Development and Psychopathology, 25(2), 277-289.
Choi, J., Park, Y., Kim, H., Song, J., Lee, D., Lee, E., Kang, H., Lee, J., Park, J., Lee, J., et al. (2021). Daily life changes and life satisfaction among korean school-aged children in the COVID-19 Pandemic. International Journal of Environmental Research and Public Health, 18, 3324. https://doi.org/10.3390/ijerph18063324
Chow, C. M., Ruhl, H., & Buhrmester, D. (2013). The mediating role of interpersonal competence between adolescents' empathy and friendship quality: A dyadic approach. Journal of Adolescence, 36(1), 191–200.
Demkowicz, O., Ashworth, E., O'Neill, A., Hanley, T., & Pert, K. (2020). Teenagers' experiences of life in lockdown (Liverpool John Moores University and University of Manchester). Diambil dari https://www.seed.manchester.ac.uk/education/research/impact/teenagers-experiences-of-life-in-lockdown/.
Fausiah, F., Widury, J., & Basri, A. S. (2007). Psikologi abnormal klinis dewasa. Jakarta: UI Press
Foulkes, L., & Blakemore, S. (2021) Individual differences in adolescent mental health during COVID-19: The importance of peer relationship quality. Neuron. https://doi.org/10.1016/j.neuron.2021.07.027
Greenberger, D., & Padesky, A. C. (2004). Mind over mood: Change how you feel by changing the way you think. New York: Guildford Press.
Helmi, A. F., Widhiarso, W., Husna, A. N. (2017). The development of online friendship scale. International Journal of Cyber Behavior, Psychology and Learning, 7(4), 12–25. https://10.4018/ijcbpl.2017100102
Kaplan, H. I., & Sadock, B. J. (2010). Buku ajar: Psikiatri Klinis (2nd Ed). Jakarta: EGC
Lie, R. (2021). Gambaran kualitas persahabatan remaja yang menjalani persahabatan secara online selama masa pandemi covid-19. Jakarta: Fakultas Psikologi, Universtas Katolik Atma Jaya
Marjan, F., Sano, A., Ifdil. (2018). Tingkat kecemasan mahasiswa Bimbingan dan Konseling dalam menyusun skripsi. Jurnal Penelitian Guru Indonesia, 3(2), 84-89. DOI: https://doi.org/10.29210/02247jpgi0005.
Masruroh, M., & Rahmawati, I. (2020). Relationship between friendship quality and anxiety in facing physical changes during puberty in female students of elementary school. Nurse and Health: Jurnal Keperawatan, 9(2), 95-101. http://ejournal-kertacendekia.id/index.php/nhjk/index
Nur, M. F. (2008). Hubungan Antara Kesulitan Dengan Tingkat Kecemasan Mahasiswa Ushuluddin Dalam Penyusunan Skripsi. Semarang: Fakultas Ushuluddin Institut Agama Islam Negeri Walisongo.
Paputungan, F. F., Gunawan, P. N., Pangemanan, D. H., & Khoman, J. A. (2019). Perbedaan Tingkat Kecemasan Berdasarkan Jenis Kelamin Pada tindakan penumpatan Gigi. e-CliniC, 7(2). https://doi.org/10.35790/ecl.v7i2.23879
Poirier, C. S., Brendgen, M., Girard, A., Vitaro, F., Dionne, G., & Boivin, M. (2015). Friendship experiences and anxiety among children: A genetically informed study. Journal of Clinical Child & Adolescent Psychology, 0(0), 1-13. DOI: 10.1080/15374416.2014.987382
Ranney, J. D., & Troop-Gordon, W. (2012). Computer-mediated communication with distant friends: Relations with adjustment during students' first semester in college. Journal of Educational Psychology, 104(3), 848–861.
Rehman, U., Shahnawaz, M. G., Khan, N. H., Kharshiing, K. D., Khursheed, M., Gupta, K., Kashyap, D., & Uniyal, R. (2020). Depression, anxiety and stress among Indians in times of covid-19 lockdown. Community Mental Health Journal, 57(1), 42–48. https://doi.org/10.1007/s10597-020-00664-x
Rodebaugh, T. L., Fernandez, K. C., & Levinson, C. A. (2012). Testing the effects of social anxiety disorder on friendship quality across gender and ethnicity. Cogn Behav Ther, 41(2). doi: 10.1080/16506073.2012.661451.
Rosanty, R. (2014). Pengaruh Musik Mozart dalam Mengurangi Stres pada Mahasiswa yang Sedang Skripsi. Journal of Educational, Health and Community Psychology, 3(2).
Van Schalkwyk, G. I., Marin, C. E., Ortiz, M., Rolison, M., Qayyum, Z., McPartland, J. C., Silverman, W. K. (2017). Social media use, friendship quality, and the moderating role of anxiety in adolescents with autism spectrum disorder. Journal of Autism and Developmental Disorders, 47(9), 2805–2813. doi:10.1007/s10803-017-3201-6
Wangid, M. N., & Sugianto. (2013). Identifikasi hambatan struktural dan kultural mahasiswa dalam menyelesaikan tugas akhir. Jurnal Penelitian Ilmu Pendidikan, 6(2), 24
Wardhana, F. S. (2021). Hubungan antara efikasi diri dengan kecemasan mahasiswa dalam penyusunan skripsi (Studi korelasi pada mahasiswa penyusunan skripsi di jurusan ilmu pendidikan FKIP, Universitas Sanata Dharma). Yogyakarta: Fakultas Keguruan dan Ilmu Pendidikan, Universitas Sanata Wardhana
Welcome, P. (2019). The Relations Between Anxiety Symptoms and Friendships in Adolescence. Honors College, 529. Diambil dari https://digitalcommons.library.umaine.edu/honors/529
Zhai, Y., & Du, X. (2020). Addressing collegiate mental health amid COVID19 pandemic. Psychiatry Research, 288, 1–2. Doi:10.1016/j.psychres.2020.113003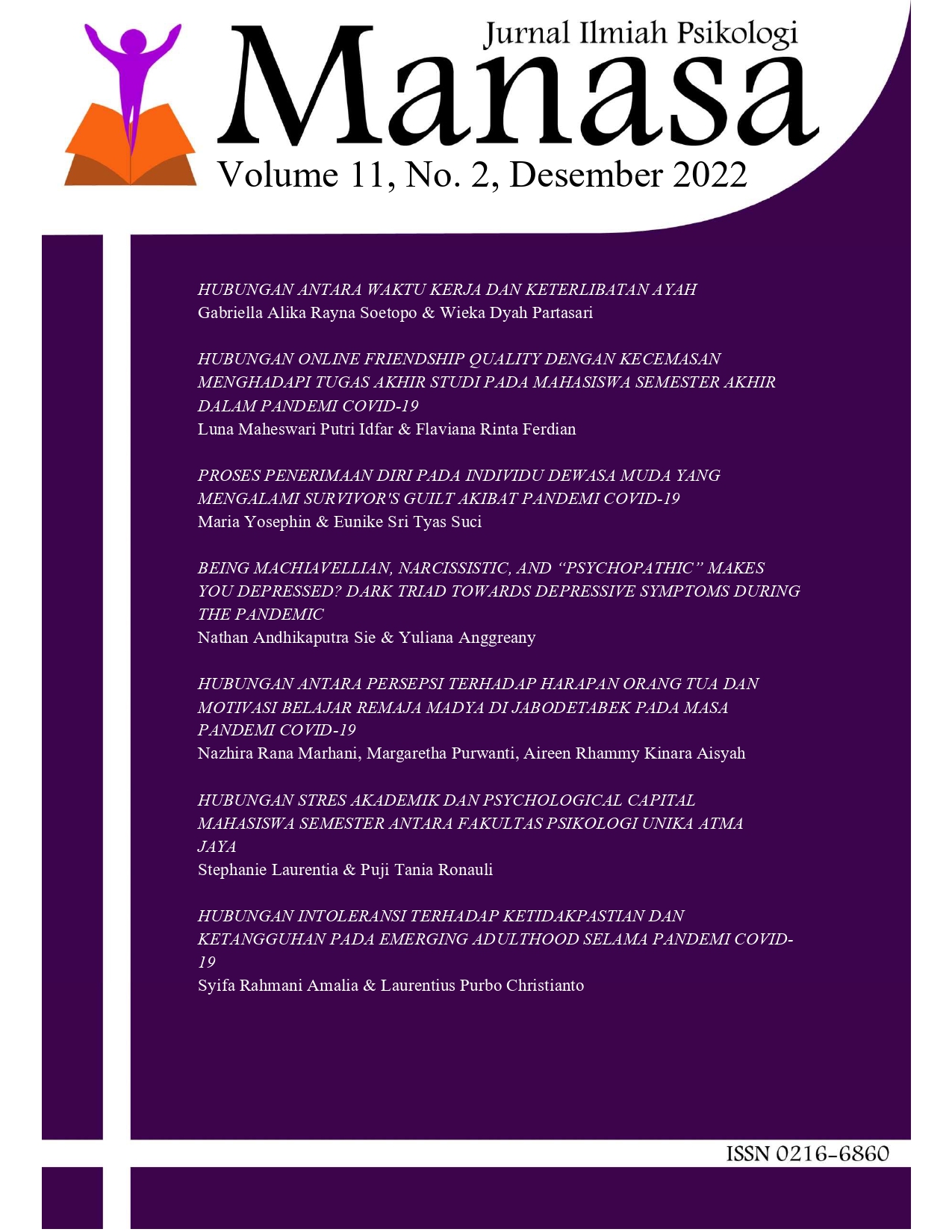 Downloads
Published
2023-01-25 — Updated on 2023-01-31
License
Copyright (c) 2023 MANASA
This work is licensed under a Creative Commons Attribution-NonCommercial-ShareAlike 4.0 International License.

Abstract views: 131 | PDF downloads: 196