PROSES PENERIMAAN DIRI PADA INDIVIDU YANG MENGALAMI SURVIVOR'S GUILT AKIBAT PANDEMI COVID-19
Keywords:
COVID-19 pandemic; early adulthood; self-acceptance; survivor's guilt
Abstract
 The COVID-19 pandemic has a broad impact on society. The high death rate from COVID-19 can
make individuals feel guilty when dealing with the loss of loved ones. This study aimed to explore
the process of self-acceptance in individuals who experience survivor's guilt due to the COVID-19
pandemic. This study used a phenomenological method. The participants in this study were three
young adults 18-39 years old who were still in the process of overcoming survivor's guilt. The
results showed that the three participants felt regret, helplessness, anger and sadness because they
have a healthier and more secure condition, while their loved ones are not safe. They tended to
blame themselves (survivor's guilt) for something that did not directly affect the death of their
parents. The process of self-acceptance experienced by the participants is unique and non-linear
related to the aspects of aversion, curiosity, tolerance, allowing and friendship. Emotional
processes, participant perceptions, religiosity and support from the environment are factors that
influence the process of self-acceptance of the three participants.
References
Bernard, M. (2013). The Strength of Self-Acceptance. Springer.
Carr, D., Boerner, K., & Moorman, S. (2020). Bereavement in the Time of Coronavirus: Unprecedented Challenges Demand Novel Interventions. Journal of Aging and Social Policy, 32(4–5), 425–431. https://doi.org/10.1080/08959420.2020.1764320
Chesire, D., & Mclontosh M.S. (2021). COVID-19 survivor's guilt a growing issue as reality of loss settles in. https://theconversation.com/covid-19-survivors-guilt-a-growing-issue-as-reality-of-loss-settles-in-153705
Germer, C. K. (2009). The Mindful Path to Self-Compassion: Freeing Yourself from Destructive Thoughts and Emotions. The Guilford Press.
Kubler-Ross, E., & Kessler, D. (2014). On Grief and Grieving - Finding the Meaning of Grief Through the Five Stages of Loss-Scribner. Simon and Schuster, Inc.
Li, J., Stroebe, M., Chan, C. L. W., & Chow, A. Y. M. (2015). The Bereavement Guilt Scale: Development and Preliminary Validation. OMEGA-Journal of Death and Dying, 75(2), 166–183. https://doi.org/10.1177/0030222815612309
Mabruri, M. I., & Psikologi, J. (2009). Hubungan antara kepribadian tangguh dan religiusitas dengan kesejahteraan psikologis pada korban bencana alam di Yogyakarta. INTUISI, 1(2). http://journal.unnes.ac.id/nju/index.php/INTUISI
Malti, T., & Ongley, S. F. (2015). The Development of Moral Emotions and Moral Reasoning. In Handbook of Moral Development. Routledge. https://doi.org/10.4324/9780203581957.ch8
Miles, M. S., & Demi, A. S. (1992). A Comparison of Guilt in Bereaved Parents whose Children Died by Suicide, Accident, or Chronic Disease. OMEGA - Journal of Death and Dying, 24(3), 203–215. https://doi.org/10.2190/g41e-rktf-p0xd-ljlk
Orth, U., Robins, R. W., & Soto, C. J. (2010). Tracking the Trajectory of Shame, Guilt, and Pride Across the Life Span. Journal of Personality and Social Psychology, 99(6), 1061–1071. https://doi.org/10.1037/a0021342
Rimiru, T. N., & Mokua, M. G. (2020). Acceptance of Loss on Psychological Well-Being. International Journal for Innovation Education and Research, 8(10), 74–79. https://doi.org/10.31686/ijier.vol8.iss10.2656
Trimulyaningsih, N., & Rachmahana, R. S. (2008). Positive Religious Coping Style dan Penerimaan Diri Pada Survivor Gempa Yogyakarta. Jurnal Psikologi, 1(1).
Wang, W., Wu, X., & Tian, Y. (2018). Mediating roles of gratitude and social support in the relation between survivor guilt and posttraumatic stress disorder, posttraumatic growth among adolescents after the Ya'an earthquake. Frontiers in Psychology, 9(NOV). https://doi.org/10.3389/fpsyg.2018.02131
Willig, C. (2013). Introducing Qualitative Research in Psychology (3rd ed.). McGraw-Hill.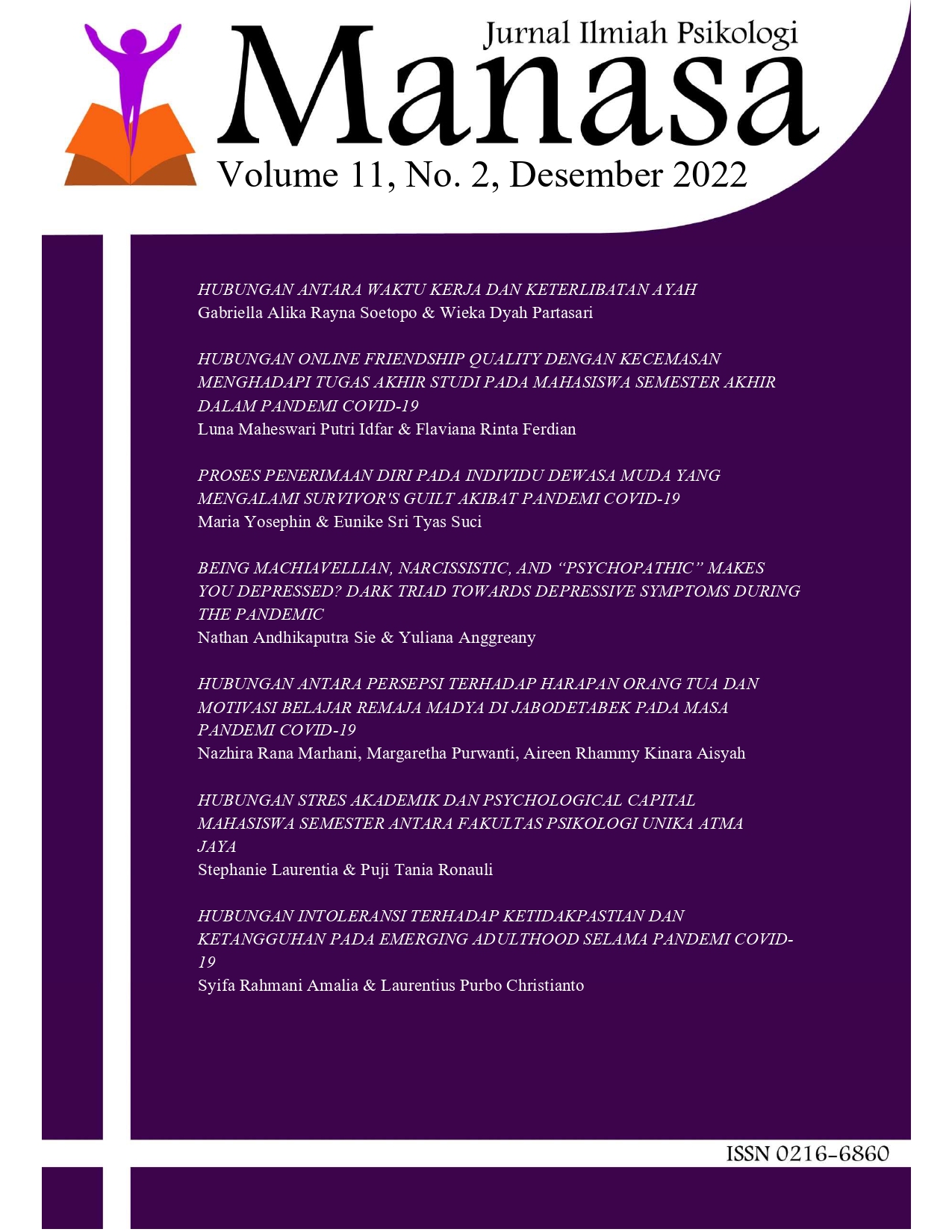 Downloads
Published
2023-01-25 — Updated on 2023-01-31
License
Copyright (c) 2023 MANASA
This work is licensed under a Creative Commons Attribution-NonCommercial-ShareAlike 4.0 International License.

Abstract views: 99 | PDF downloads: 120