SMART ROOM MONITORING MENGGUNAKAN MIT APP INVENTOR DENGAN KONEKSI BLUETOOTH
Micha Thesania Katarine

Karel Octavianus Bachri
Keywords:
Smart Room, Bluetooth HC-05, MIT App Inventor, PIR, LM35
Abstract
This study aims to design a smart room monitoring system (smart room) to determine the condition of the room in the house. This smart room system is based on Bluetooth and is assisted by the MIT App Inventor application which can do remote monitoring. This system is controlled by the Arduino Mega microcontroller which is connected to the sensor and Bluetooth. The sensors used are MQ2 to detect gas leaks, LM35 to detect room temperature, and PIR sensors to detect human presence. The MQ2 Sensor is placed near the LPG gas canisters, the PIR sensor is placed at entrance, while the LM35 sensor is placed at the center of the room, with neither direct blow from the Air Conditioner nor direct exposure to sunlight. Experiment shows that the sensor and the system work, and the application can also be connected to the system so that the sensors are monitored. In the MIT App Inventor application, the data received from Bluetooth is a PIR sensor that detects the presence of people in the room, the LM35 sensor can detect room temperature, and the MQ2 sensor can detect the presence of leaking gas.
References
[1] D. A. O. Turang. 2015. Pengembangan Sistem Relay Pengendalian Dan Penghematan Pemakaian Lampu Berbasis Mobile. Yogyakarta : presented at the Seminar Nasional Informatika.
[2] F. N. Rochim and A. Nilogiri. 2017. Simulasi Alat Pendeteksi Kebakaran Menggunakan Sensor Asap Mq2, Sensor Suhu Lm35, Dan Modul Wifi Esp8266 Berbasis Mikrokontroler Arduino. Jember : Universitas Muhammadiyah Jember.
[3] M. G. Pratama and S. T. Rasmana. 2017. Rancang Bangun Rumah Pintar Untuk Pengaturan Sistem Penerangan Dan Jemuran Otomatis. JCONES, vol. 6, no. 1.
[4] S. Hadi and A. Adil. 2019. Rancang Bangun Pendeteksi Gas Berbasis
Sensor Mq-2. presented at the Seminar Nasional Sistem Informasi dan Teknik Informatika.
[5] S. F. Barrett. 2013. Arduino Microcontroller Processing for Everyone!: Third Edition. Morgan & Claypool.
[6] M. Saleh and M. Haryanti. 2017. Rancang Bangun Sistem Keamanan Rumah Menggunakan Relay. vol. 8, no. 2, 8.
[7] N. N. Bakin, V. I. Tuyev, and E. F. Yauk. 2011. LED lighting. International Conference and Seminar on Micro / Nanotechnologies and Electron Devices Proceedings. 346–348. doi: 10.1109/EDM.2011.6006944.
[8] M. Rusdi and A. Yani. Sistem Kendali Peralatan Elektronik Melalui Media Bluetooth Menggunakan Voice Recognition. vol. 3, no. 1, p. 7.
[9] J.-S. Lee, Y.-W. Su, and C.-C. Shen. 2017. A Comparative Study of Wireless Protocols: Bluetooth, UWB, ZigBee, and Wi-Fi. IECON 2007 - 33rd Annual Conference of the IEEE Industrial Electronics Society, Taipei, Taiwan, 46–51, doi:10.1109/IECON.2007.4460126.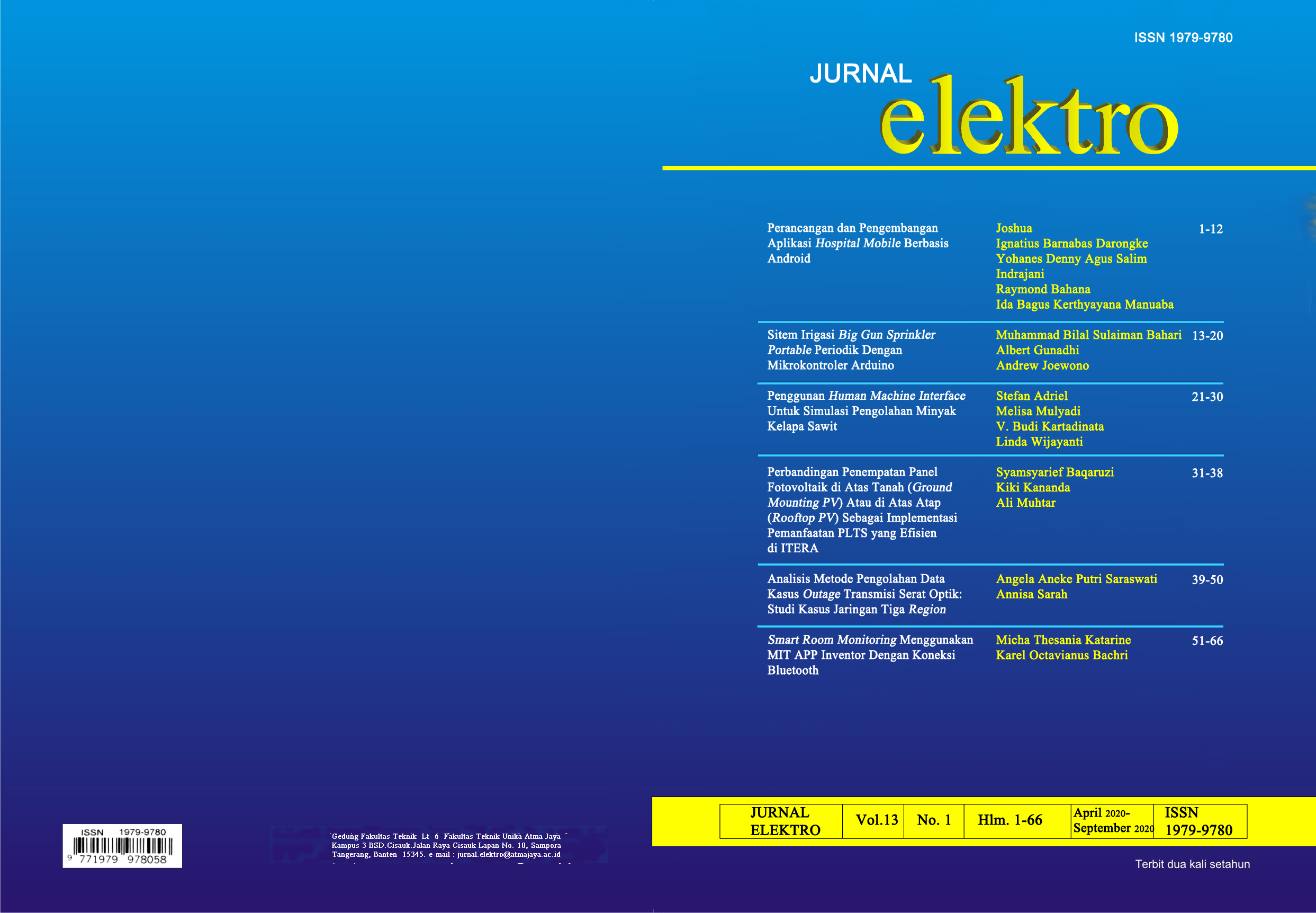 Abstract viewed = 0 times SMART ROOM MONITORING MENGGUNAKAN MIT APP INVENTOR DENGAN KONEKSI BLUETOOTH downloaded = 0 times