THE RELATION BETWEEN ONLINE GAME ADDICTION AND LEARNING MOTIVATION AMONG JUNIOR HIGH SCHOOL STUDENTS IN NORTH JAKARTA
Gladys Jane Octavia

Fakultas Kedokteran dan Ilmu Kesehatan Unika Atma Jaya

Surilena Surilena

Departemen Ilmu Kesehatan Jiwa dan Perilaku, Fakultas Kedokteran dan Ilmu Kesehatan Unika Atma Jaya

Erfen Gustiawan

Departemen Etika, Fakultas Kedokteran dan Ilmu Kesehatan Unika Atma Jaya
Keywords:
addiction, online game, learning motivation
Abstract
Introduction: Online game addiction is a disorder with uncontrolable behavioral when playing online games. The academic achievement may decrease and has been negatively affected due to lack of learning motivation. The purpose of this study was to explore the relation between online game addiction and learning motivation among junior high school students in north Jakarta.
Methods: A cross-sectional study was conducted in 1,474 junior high school students by filling in the questionnaire, consisting of the Indonesian Online Game Addiction Questionnaire (IOGAQ) and the Motivation Learning Strategy Questionnaire (MSLQ). The inclusion criteria were all junior high school (SMP) class I to class III in Kelurahan Penjaringan, North Jakarta. The exclusion criteria were students who did not signed the consent form. Bivariate test and multivariate logistic regression test were performed to analyze data.
Results: From 1,474 respondents, most of them (52.5%) were aged 14 years old and girls (37.8%). The addiction to online game was more prevalent in boys (90.1%) and girls (79.1%), mostly (87.3%) in grade 1 junior high school. The respondents with online game addiction often played online games ≥4 days/week (95%), with the duration of playing online games on school days (95.5%) or holidays (94.2%) was >4hours/day. The types of online games played was role playing games (85.8%) using a portable tool (94,8%). The learning motivation was low (86.3%). Interestingly, bivariate analysis showed no significant relationship between online game addiction and learning motivation (p≥0.05).
Conclusion: There is no significant relation between online game addiction and learning motivation. However, online game addiction need to be closely monitored as this may impact the learning motivation.
Downloads
Download data is not yet available.
References
Asosiasi Penyelenggara Jasa Internet Indonesia. Laporan survei: Penetrasi dan profil perilaku pengguna internet Indonesia 2018. Diunduh di: https://www.apjii.or.id/content/read/39/342/Hasil-Survei-Penetrasi-dan-Perilaku-Pengguna-Internet-Indonesia-2018.

Jap T, Tiatri S, Jaya E S, Suteja MS. The development of indonesian online game addiction questionnaire. PLOS ONE. 2013;8(4):e61098.

American Psychiatric Association. The diagnostic and statistical manual of mental disorder. 5th ed. Washington, DC: APA; 2019. p.615-7.

Angela A. Pengaruh game online terhadap motivasi belajar siswa SDN 015 Kelurahan Sidomulyo Kecamatan Samarinda Ilir. J Ilmu Komun. 2013;1:532–44.

Wong IL, Kuen, Lam MPS. Gaming behavior and addiction among Hong Kong adolescents. Asian J Gambl Issues Public Health. 2016;6:1–16.

Supina, Khosmas FY, Syahrudin H. Pengaruh motivasi terhadap hasil belajar siswa kelas XC pada mata pelajaran Ekonomi di SMA. J Pendidikan dan Pembelajaran. 2013;2;1-15.

Jannah N, Mudjiran, Nirwana H. Hubungan kecanduan game dengan motivasi belajar siswa dan implikasinya terhadap bimbingan dan konseling. J Konselor. 2015;4;119-207.

Pintrich PR, Smith DAF, Garcia T, et.al. A manual for the use of the motivated strategies for learning questionnaire. Michigan: NCRIPTAL;1991.p.1-76.

Brigitta. Masalah perilaku dan emosi pada siswa-siswi Sekolah Menengah Pertama dengan perilaku
bullying Kelurahan Penjaringan Jakarta Utara. [Skripsi] Fakultas Kedokteran Unika Atma Jaya. 2016.

Kusumawati R, Aviani Y, Molina Y. Perbedaan tingkat kecanduan (adiksi) game online pada remaja ditinjau dari gaya pengasuhan. J RAP UNP. 2017;8:88–99.

Yanti NF, Marjohan, Sarfika R. Tingkat adiksi game online siswa SMPN 13 Padang. J Ilmh Univ Batanghari Jambi. 2019;19(3):684-7.

Lee C, Kim O. Predictors of online game addiction among Korean adolescents. Addict Res Theory. 2017;25:58–66.

Nurdilla N, Arneliwati, Elita V. Hubungan kecanduan bermain game online dengan kualitas tidur remaja. J Online Mhs FKp. 2018;5(2):120-6.

You S, Kim E, Lee D. Virtually real: Exploring avatar identification in game addiction among massively multiplayer online role-playing games (MMORPG) players. J Games Cult. 2017;12:56–71.

Paik SH, Cho H, Chun JW, Jeong JE, Kim DJ. Gaming device usage patterns predict internet gaming disorder: Comparison across different gaming device usage pattern. Int J Environ Res Public Health. 2017;14(1512):1-14.

Nirwanda CS, Ediati A. Adiksi game online dan keterampilan penyesuaian sosial pada remaja. J Empati. 2019;5:19–23.

Wang C, Cecilia LA, Kwokkei M, et al. Prevalence and correlates of video and internet gaming addiction among Hong Kong adolescents: A pilot study. Sci World J. 2016;1-9.

Zulfikar A, Dwikurnaningsih, Setyorini. Pengaruh dari dampak game online terhadap motivasi belajar pada siswa kelas VIII SMP Kristen 2 Salatiga. Genta Mulia. 2019; 10(1): 2047-9.

World Health Organization. Gaming disorder. WHO. Diunduh di: http://www.who.int/features/qa/gaming-disorder/en/.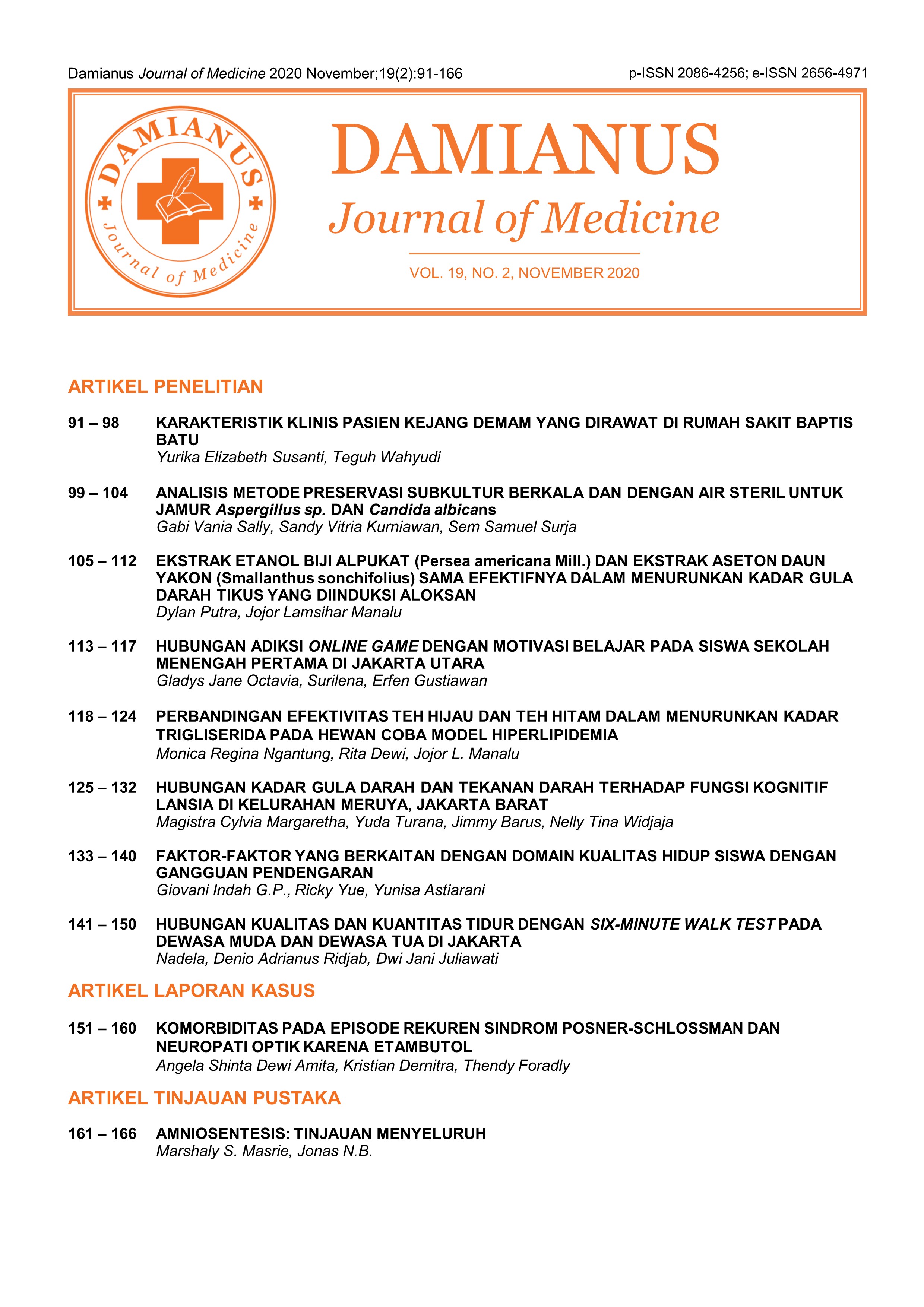 How to Cite
1.
Octavia G, Surilena S, Gustiawan E. THE RELATION BETWEEN ONLINE GAME ADDICTION AND LEARNING MOTIVATION AMONG JUNIOR HIGH SCHOOL STUDENTS IN NORTH JAKARTA [Internet]. Damianus: Journal of Medicine [Internet]. 25Nov.2020 [cited 24Jan.2021];19(2):113 -17. Available from: http://ejournal.atmajaya.ac.id/index.php/damianus/article/view/1243
This work is licensed under a Creative Commons Attribution-ShareAlike 4.0 International License.

Abstract viewed = 0 times PDF (Bahasa Indonesia) downloaded = 0 times