IMPLEMENTASI TEKNOLOGI RFID PADA DISPENSER AIR MINUM
Keywords:
Dispenser air, RFID reader, RFID tag, Micro-controller Arduino Mega 2560
Abstract
berbagai bidang kehidupan manusia. Salah satu perangkat teknologi informasi yang sedang berkembang saat ini adalah teknologi RFID (Radio Frequency Identification). Pada paper ini akan dibahas mengenai implementasi teknologi RFID pada dispenser air sebagai akses untuk penyajian air minum. Beberapa komponen perangkat keras (hardware) yang digunakan dalam sistem ini antara lain, Mikrokontroller Arduino Mega 2560, tombol, RFID reader (MFRC522), relay, LCD display 16x2, dan pompa air yang diintegrasikan menjadi satu kesatuan sistem. Lima keping kartu (RFID tag) digunakan dalam percobaan dan pengujian pada sistem dispenser ini. Keping kartu tersebut akan dibaca oleh RFID reader (MFRC522) dan dikirimkan ke Mikrokontroller untuk diolah dan diproses. Berdasarkan hasil pengujian yang didapatkan dapat disimpulkan bahwa implementasi teknologi RFID pada sistem dispenser air minum secara keseluruhan dapat berjalan dengan baik, efektif dan sesuai yang diharapkan.
The application of information technology is developing rapidly and affects various fields of human life. One of the information technology devices currently being developed is RFID (Radio Frequency Identification) technology. In this paper we will discuss about the implementation of RFID technology in water dispensers as access to drinking water. Some hardware components (hardware) used in this system include, Arduino Mega 2560 Microcontroller, buttons, RFID readers (MFRC522), relays, 16x2 LCD screens, and water pumps integrated into a single unit system. Five card pieces (RFID tags) are used in experiments and testing on this dispenser system. The chip card will be read by an RFID reader (MFRC522) and sent to a Microcontroller to be processed and processed. Based on the results obtained it can conclude the design that applies RFID to drinking water dispenser systems that are complete with good, effective and as expected.
References
[1] Eko, B. S. and Bobi, K. (2015) 'Perancangan Sistem Absensi Kehadiran Perkuliahan dengan Menggunakan Radio Frequency Identification ( RFId )', CoreIT,Vol.1,No.2, Desember 2015, 1(2), pp. 44–49.
[2] Gamis Pindhika Darma, W. W. (2015) 'RANCANG BANGUN DISPENSER OTOMATIS 21(1), pp. 1–6.
[3] Kaur, M. et al. (2011) 'RFID Technology Principles , Advantages , Limitations & Its Applications', International Journal of Computer and Electrical Engineering, 3(1), pp. 151–157.
[4] Klaus Finkenzeller (2008) RFID Handbook. THIRD EDIT. Munich.
[5] Ridwan, A., Darjat and Sudjadi (2014) 'Dosen Pada Prototipe Sistem Ruang Kelas Cerdas', TRANSMISI, 16, pp. 1–8.
[6] Siahaan, C. P. M. and B, F. R. (2014) 'Perancangan Sistem Pembayaran Biaya Parkir Secara Otomatis Menggunakan Rfid ( Radio Frequency Identification )', Singuda Ensikom, 9(3), pp. 175–180. Available at: https://jurnal.usu.ac.id/index.php/singuda_ensikom/article/view/8408/4036.
[7] Singgeta, R. L., Manembu, P. D. K. and Rembet, M. D. (2018) 'SISTEM PENGAMANAN PINTU RUMAH DENGAN RFID BERBASIS WIRELESS ESP8266', 2018(Ritektra), pp. 2–3.
[8] Singgeta, R. L. and Rumondor, R. (2018) 'RANCANG BANGUN DISPENSER OTOMATIS MENGGUNAKAN SENSOR ULTRASONIK BERBASIS MIKROKONTROLLER', JURNAL REALTECH, 14, pp. 31–36.
[9] Sunarya, U. et al. (2015) 'Perancangan Rekam Medis PPTM Berbasis Android dan Mikrokontroler Menggunakan Teknologi RFID', Jnteti, 4(1), pp. 50–55.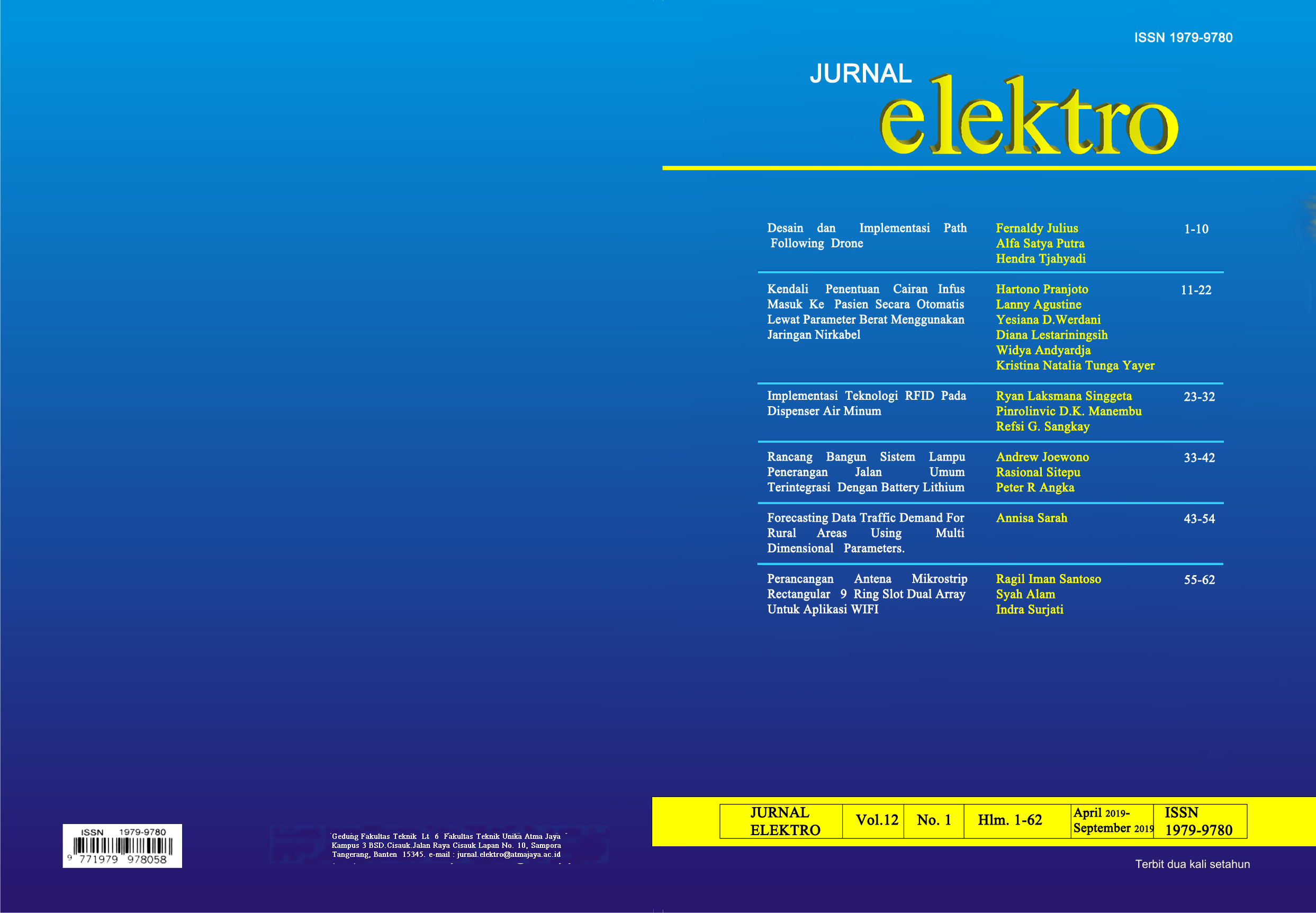 Downloads
Abstract views: 281 | PDF downloads: 209