GAMBARAN PROSES PENERIMAAN DIRI IBU DENGAN ANAK DOWN SINDROME
Penny Handayani

Fakultas Psikologi, Universitas Katolik Indonesia Atma Jaya

Elisabeth Vania

Psikologi UNIKA Atma Jaya
Keywords:
down syndrome, self acceptance, mother
Abstract
Parents put their hopes in their children who will be born. When a child is born with conditions that are not as expected, this causes an emotional reaction in parents, especially the mother as the main caregiver for children and people who give birth to children in the world. The existence of a diagnosis of Down syndrome in children, mothers feel lost hope and their role will change. According to Fidler, Down syndrome is known as a form of chromosomal abnormality that causes developmental delays, mild to severe mental retardation and physical abnormalities. Finally, the mother faces the terrible reality that her child has special needs. This is a situation that is difficult for mothers to accept and needs to go through a process to be able to achieve self-acceptance. If the mother accepts herself with the condition of having a Down syndrome child, it can help the child to grow and develop properly. Therefore, researchers want to know the process of self-acceptance of mothers with children with Down syndrome.
               This research uses a qualitative approach and data collection is carried out using the interview method. Participants in this study were 3 mothers who had children with Down syndrome at the age of 30-45 years. Through interviews, researchers explore the expectations of parents about children, events during pregnancy, childbirth and raising children. In addition, researchers also dig data about the process experienced by mothers to achieve self-acceptance. The analysis conducted on each participant was carried out with the thematic analysis method.
               The results showed that the three participants had a process of self-acceptance in accordance with the phase initiated by Duncan and Moses, but there were several different stages. It takes many years for mothers to be able to complete the emotional stages and feelings that emerge can overlap. When the mother has reached self-acceptance, it is still possible to experience a setback to the previous phase. Factors that influence, among others, hope, ignorance of Down syndrome, the economy and support from the surrounding environment.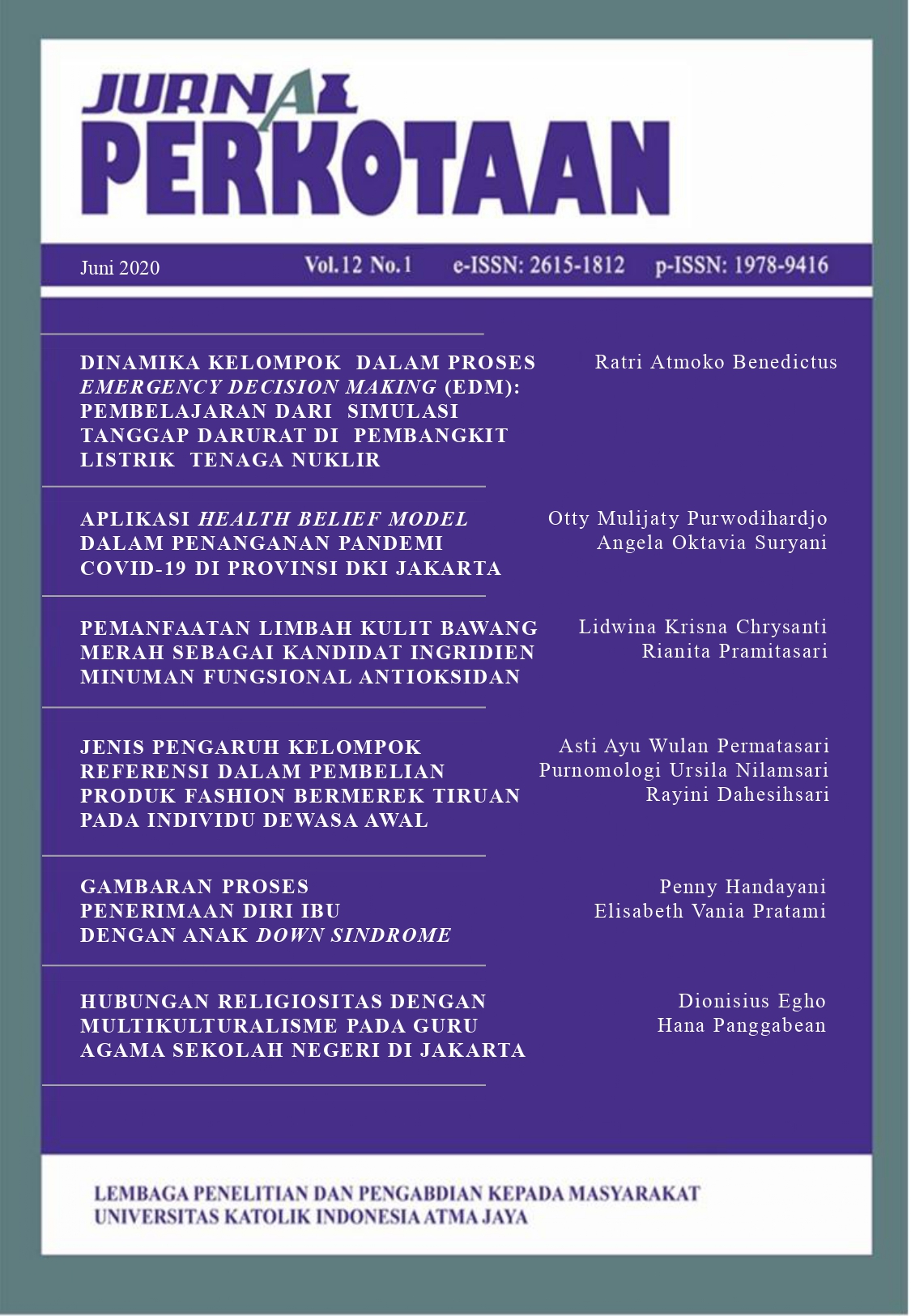 How to Cite

Handayani, P., & Vania, E. (2021, February 19). GAMBARAN PROSES PENERIMAAN DIRI IBU DENGAN ANAK DOWN SINDROME. Jurnal Perkotaan, 12(1), 67-85. https://doi.org/https://doi.org/10.25170/perkotaan.v12i1.1231

Abstract viewed = 36 times PDF downloaded = 35 times